Yonosuke is a typical Japanese on-screen hero: socially awkward, childish and naive, but always cheerful and charming. We meet him when he moves from Nagasaki to Tokyo in the late eighties at the height of the city's economic boom. Despite his odd character he manages to make new friends at university, joins a samba class and falls in love with an older woman. Sixteen years later his friends are all reminiscing over their college days, thinking back on how Yonosuke changed their lives. A heart-warming, crowd-pleasing comedy that takes a sudden dramatic turn.
Based on a novel by multi-award-winning author Shuichi Yoshida (Villain, Parade), The Story of Yonosuke [Yokomichi Yonosuke] bittersweet film is the latest offering from director Shuichi Okita, the director of The Woodsman & the Rain, and stars Kengo Kora (Norwegian Wood, Fish Story) & Yuriko Yoshitaka (Gantz, Robo-G).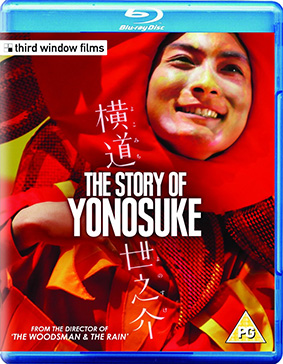 The Story of Yonosuke will be re-released on UK DVD and Blu-ray on 14th April 2014 by Third Window Films at the RRP of £14.99 for the DVD and £19.99 for the Blu-ray.
No extra features have been listed in the press release. Which doesn't mean there won't be any, of course.