The first glimmer of spring heralds the return of the acclaimed Flatpack Film Festival to Birmingham for the eigth consecutive year. An eleven day event that has carved out a unique place in the UK's film scene, Flatpack Film Festival will stir together an eye-popping line-up of new features, shorts and special guests, as well as providing an alternative route-map to Birmingham with walking tours, installations and pop-up screenings across the city. The programme is known for using an all-encompassing definition of 'film', and the 2014 festival will be no exception.
Headline events include: The World Made Itself, an immersive piece of performance from LA-based artist and performer Miwa Matreyek, who will imagine the origins of the earth by interacting with her own animations and music from Flying Lotus; the UK Premiere of Bill Morrison's latest film, The Great Flood, a portrait of the devastation caused by the Mississippi floods of 1927 (presented by Morrison himself) that resonates profoundly with recent news reports; Phono-Cinema-Théâtre, a recently-restored treasure trove of 1900s film featuring theatre and variety stars of the day with a live score from John Sweeney; Birmingham-on-Sea, an investigation into one land-locked city's love affair with water; and an immersive, horizontal screening of cult 1972 sci-fi, Silent Running.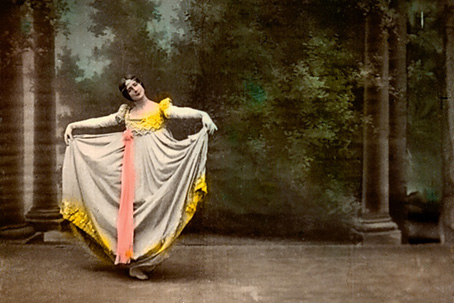 Phono-Cinema-Théâtre

Flatpack will also present a full programme of feature films including: a special screening of Little Feet, Alexandre Rockwell's lo-fi gem that follows three children as they set out to return their goldfish to the sea; Night Moves, an eco-terrorism thriller starring Jesse Eisenberg and Dakota Fanning and directed by Kelly Reichardt; Joanna Hogg's latest feature, Exhibition, an uncomfortably intimate study of a couple's relationship; and The Strange Colour of Your Body's Tears, a surreal psychological drama from Hélène Cattet and Bruno Forzani (Amer).
Heading up the documentary programme is The Punk Singer, a blazing portrait of Riot Grrrl pioneer Kathleen Hanna (Bikini Kill / Le Tigre) that slams together feminism, punk music and rare archival footage. Then there's Elektro Moskva, charting the history of the Soviet electronic age and its legacy, from Leon Theremin and Soviet synthesizers to modern-day Russian circuit benders, and Watermark, a thought-provoking new documentary from Edward Burtynsky (Manufactured Landscapes) about humanity's relationship with water.
Animation plays a large part in this year's programme including rarely-screened rediscoveries and new work hot off the presses. Special guests include Estonian legend Priit Pärn and a group from the brilliant Tokyo DVD label Calf, both screening work as part of a new student-led strand Swipeside. Unsung hero Gisaburo Sugii also gets his due with a series of screenings including a one-off 35mm outing for his metaphysical kids movie Night on the Galactic Railroad. Other gems from the past include a programme of work by Saul Bass and a sharp selection of 50s cartoons from America's UPA Studios.
Other programme highlights include:
Café Neuro, a weekend of talks, screenings and activities that will exploit recent developments in brain-imaging and eye-tracking technology to explore what cinema does to our brains.

A selection of Henry Hills' mesmerising, rhythmical work presented by the experimental filmmaker himself, who will discuss his collaborations with the likes of John Zorn and Christian Marclay.

DVD Bang, a Korean-inspired viewing lounge, where you can book in to watch a movie day or night.

Colour Box, the popular family strand featuring a range of screenings and activities for younger viewers and doers, including restored French classic The King and the Mockingbird and cult sensation Adventure Time.
Tickets for individual events as well as details of the full programme can be found at: www.flatpackfestival.org.uk.