Inspired by punk author Jon Savage's book, Teenage gives voice to young people from the first half of the 20th century in America, England and Germany, from party-crazed Bright Young Things and hip Swing Kids to zealous Hitler Youth and frenzied Sub-Debs. Four young voices (Jena Malone, Ben Whishaw, Julia Hummer, Jessie Usher) bring to life rare archival material and filmed portraits of emblematic teenagers from history.
Produced by Jason Schwartzman, directed by Matt Wolf with music by Bradford Cox (Atlas Sound, Deerhunter), this living collage is a story that ends with a beginning: a prelude to today's youth culture. In each generation, adults often mistake youthful unrest for an emotional right of passage. But history proves that rebelling teenagers aren't just claiming their independence, they're shaping the future.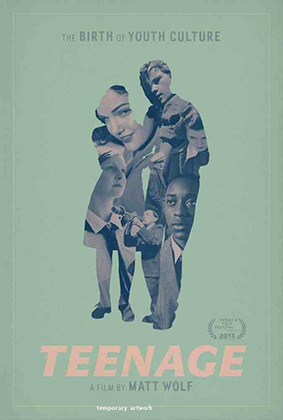 Described by Little White Lies as "a mesmeric tone poem about adolescence, identity and revolution," Teenage will be released on UK DVD on 31st March 2014 and VOD on 1st April 2014 by Soda Pictures at the RRP of £17.99 for the DVD and £12.99 for the DLP.
The DLP version will be available on iTunes, Blinkbox, Virgin Movies On Demand, Lovefilm/Amazon.
Extra features on the DVD will include: