Raised by foster parents, Sam claims to remember nothing of her childhood…but it remembers her. When she discovers she has inherited a property, she invites three friends to join her on a trip that will change their lives forever.

A young reclusive caretaker, a childhood friend of Sam's is there to greet them, but something else is waiting for her in the house, something dark and deadly. The ghosts of a past she has long forgotten are coming back to haunt her with a pounding, slashing, raging terror.
Scoring worryingly badly with IMDb users, director and co-writer Jeremy Berg's The Invoking (original title Sader Ridge) has nonethless found favour within the horror movie press, being called "a great ride with some well-crafted suspense and two kick ass actors that carry the whole damn film" by Bloody-Disgusting.com, while Fearnet.com said that "The skillful editing never lets the film drag, and Berg's expertise behind the camera proves a mega-huge budget is not required to make a good looking movie – nearly every shot is superbly executed.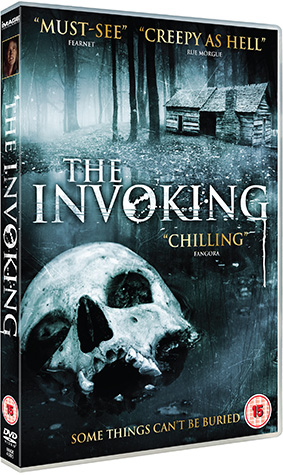 The Invoking will be released on UK DVD on 12th May 2014 by Image Entertainment at the RRP of £12.99.
Extra features will be:
Director/Producer commentary

Actor commentary

The Making of The Invoking