Shipping captain Marco (Vincent Lindon – Anything For Her) receives a phone call from his sister, urgently calling him back to Paris. Her husband has committed suicide, her daughter is missing and the family business has gone under. She holds her husband's business partner, Edouard Laporte, accountable and Marco sets out to expose his treachery. But, as he begins to scratch under the surface, Marco discovers a dangerous underworld of violence, corruption and exploitation that will culminate in a final, shocking revelation...
The new film from award-winning writer-director Claire Denis (Chocolat, White Material, Beau Travail), Bastards [Les salauds] is a disturbing yet mesmerising examination of transgression, a tour-de-force in atmospheric filmmaking and a thrilling, highly modern take on film noir.
Quiet Earth hailed it as "a tale of planned revenge that ranks among some of the most twisted I've seen and though not quite on the level of Irreversible, the two movies do share a similar emotional devastation," while Little White Lies called it "an extraordinary modern riff on the classic noir thriller."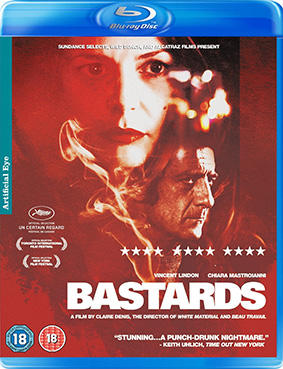 Described by CineVue as a "masterfully orchestrated, elegantly framed and intensely provocative film is one of the year's best LGBT efforts," Bastards will be released on UK DVD and Blu-ray on 14th April 2014 by Artificial Eye at the RRP of £15.99 for the DVD and £19.99 for the Blu-ray.
Extra features have yet to be confirmed.