Following in the path of BBC 4, Arrow Film's Nordic Noir brand will now additionally include quality international crime thriller shows from various European territories and beyond, under a sub-label simply entitled 'Noir'.
Having already seen massive success with their Bafta winning series The Bridge, The Killing and Borgen, Arrow Films are thrilled to announce the release of Salamander, a tense, edge-of-your-seat European thriller which will mark the first Belgian TV show to be released by the new Noir label. Having been aired in a prime-time Saturday night slot on BBC 4 earlier this year, the 12 part series comes arrives on DVD in the UK in March.
Everyone has secrets. But some secrets can bring down a nation. In a private Brussels bank, 66 safe-deposit boxes are raided. The owner of the bank wants to keep the thefts under wraps but police inspector Paul Gerardi catches wind of the affair. With his incorruptible, old-school morals and devil-may-care attitude, Gerardi throws himself into the investigation, and when some of the key players are murdered, commit suicide or vanish, soon realises just how big the case is.
Gerardi discovers that the victims are members of a secret organisation called Salamander, made up of the country's industrial, financial, judicial and political elite, and the safe-deposit boxes contained their most intimate secrets - secrets that could bring down the nation. As he becomes the target of both the criminals and the authorities, Gerardi must quickly find out what their agenda is. And who is behind the thefts...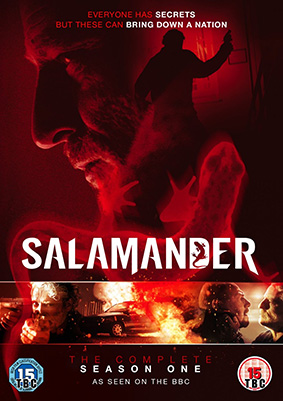 Salamander Season 1 will be released on UK DVD on 17th March 2014 by Arrow Films at the RRP of £24.99.
No extra features have been listed.