Network Distributing have announced five more titles to be released on UK DVD as part of 'The British Film' collection, their ongoing project to release lesser seen British films from years past. The latest collection includes a wartime military comedy, an international crime thriller, a slice of 60s science fiction, a light-hearted naval jaunt and a supernatural chiller.
Each of the discs will be priced at £9.99 and released on UK DVD by Network Distributing.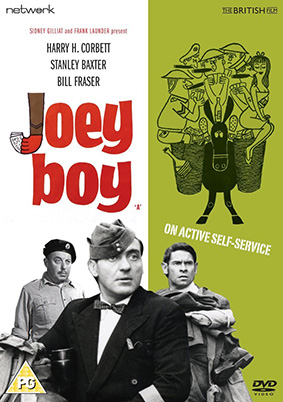 Joey Boy (1965)
While posters urge austerity and vigilance in wartime Britain, 'Joey Boy' Thompson has never had it better. In a cellar beneath his East London fish shop, a gambling club thrives and austerity provides a nice black-market sideline, but the dolce vita crumbles when police arrive in a lightning raid, and offer Joey and his fellow reprobates a stark choice: sign up for active service, or face another stint inside. Thus the lads find themselves heading off to Italy, determined to make the best of it.
Featuring a legendary comedy line-up, Joey Boy charts the wartime misadventures of a gang of London spivs who decide that a tour of duty with the Army is preferable to another stint at His Majesty's pleasure. Directed and co-written by St. Trinains' Frank Launder and starring Harry H. Corbett, Stanley Baxter, Bill Fraser, Lance Percival, Reg Varney, Derek Nimmo and Thorley Walters, Joey Boy is presented in a brand-new transfer from original film elements and will be released on UK DVD from 10th March 2014 at the RRP of £9.99, courtesy of Network Distributing.
Special features are: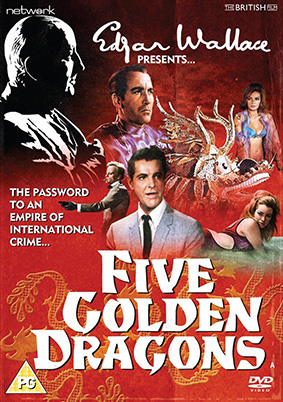 Edgar Wallace Presents... Five Golden Dragons (1967)
Bob Mitchell, an American playboy newly arrived in Hong Kong, is the recipient of a strange written message, found on the body of a dead man. The message reads simply: 'Five Golden Dragons'. The unsuspecting Mitchell has stumbled across an illicit gold-trafficking operation, and soon finds himself in the midst of a power struggle between a formidable and enigmatic global crime syndicate, and brutal local mobsters.
Christopher Lee, George Raft, Klaus Kinski, Dan Duryea and Brian Donlevy are among the villainous 'dragons' encountered by Hitchcock hero Robert Cummings in this exotic British feature from 1967, adapting one of Edgar Wallace's celebrated 'Commissioner Sanders' stories. Directed by ITC stalwart Jeremy Summers and produced by B-movie legend Harry Alan Towers, Edgar Wallace Presents... Five Golden Dragons combines glamorous locations, gorgeous girls, mystery and adventure. Five Golden Dragons is presented here in a brand-new transfer from original elements, in its cinema aspect ratio, and will be released on UK DVD from 10th March 2014.
Special features are:
BECTU audio interview with director Jeremy Summers, from 2001

Promotional material PDFs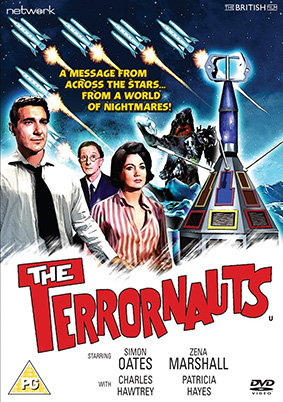 The Terrornauts (1967)
Joe Burke heads a radio telescope project at a British observatory, hoping to pick up signs of life from another planet. So far, the team has reported no positive results, but just when the project is about to be cancelled, Burke discovers a faint signal – the same mysterious signal that intrigued and haunted him as a child – and decides to respond.
Doomwatch star Simon Oates takes the lead role in this cult '60s sci-fi gem, adapted from visionary author Murray Leinster's novel The Wailing Asteroid by fellow Hugo-award winner John Brunner. Also starring Bond girl Zena Marshall and featuring typically charismatic turns from Patricia Hayes and Carry On regular Charles Hawtrey, The Terrornauts is presented here in a brand-new transfer from the original film elements and will be released on UK DVD from 17th March 2014.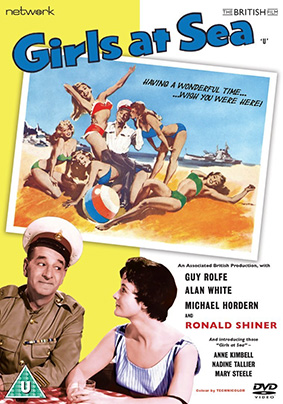 Girls at Sea (1958)
When HMS Scotia pays a visit to the French Riviera, the officers throw a lavish party to celebrate the engagement of Captain Robert Randall to Jill Eaton; among the guests are Mary Carlton, Jill's American friend, and Antoinette, a vivacious redhead. However, when the girls are obliged to stay the night on the ship a series of hilarious complications ensue, as the officers attempt to keep the girls away from the beady eyes of the Admiral.
Directed by Gilbert Gunn and written by T.J. Morrison from the play by Ian Hay and Stephen King-Hall, the cast of Girls at Sea includes Guy Rolfe, Michael Hordern, Richard Coleman, Lionel Jeffries, Daniel Massey, David Lodge, Warren Mitchell, Michael Ripper, Brian Wilde and Richard Briers. Girls at Sea will be released on UK DVD on 17th March 2014.
Special features are:
Original theatrical trailer

Image gallery

Promotional material PDFs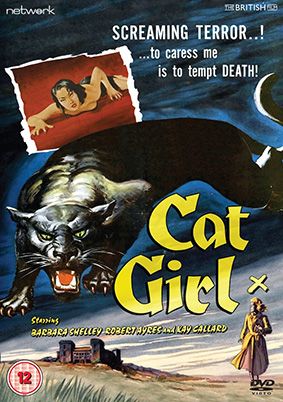 Cat Girl (1957)
Updating Val Newton's classic Cat People, this supernatural chiller stars scream queen Barbara Shelley (Village of the Damned) as Leonora, a beautiful girl obsessed by the idea that she is heir to an ancestral curse causing her to develop the ferocious, predatory instincts of a leopard.
Directed by Upstairs, Downstairs' Alfred Shaughnessy and an early showcase for Shelley's smouldering talent, Cat Girl will be released on UK DVD with a brand-new transfer from the original film elements in its as-exhibited theatrical aspect ratio on 24th March 2014.