Ealing's greatest comedies captured the essence of post-war Britain, both in their evocation of a land once blighted by war but now rising doggedly and optimistically again from the ashes, and in their mordant yet graceful humour. They portray a country with an antiquated class system whose crumbling conventions are being undermined by a new spirit of individual opportunism. In the delightfully wicked Kind Hearts and Coronets, a serial killer politely murders his way into the peerage; in The Lavender Hill Mob a put-upon bank clerk schemes to rob his employers, and The Man in the White Suit is a harshly satirical depiction of idealism crushed by the status quo. The three films represent some of Alec Guinness's best work as well of three of the finest Ealing comedies and are brought together for the first time on Blu-Ray in The Ealing Studios Collection Volume 1 later this momnth from StudioCanal.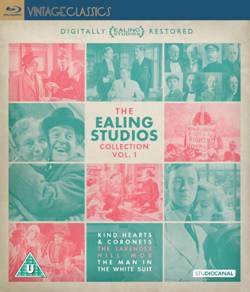 Kind Hearts and Coronets (1949)
director: Robert Hamer | starring: Alec Guinness, Dennis Price, Joan Greenwood and Valerie Hobson
Alec Guinness features in eight different roles as the unsuspecting members of the aristocratic D'Ascoyne family – murdered one by one by the scheming, outcast cousin Louis Mazzini (Dennis Price). Mazzini's mother was a D'Ascoyne by birth, but when she ran away with an opera singer she was ostracized by her family as a result. When her dying wish to be buried in the family crypt is refused, Louis vows to get his revenge. As he ascends the social ranks, he is torn between his love for now-married childhood sweetheart, and equally devilish Sibella (Joan Greenwood), and the saintly wife of one of his victims, Edith D'Ascoyne (Valerie Hobson).
Extra features:
Introduction by John Landis
Audio commentary with Peter Bradshaw, Terence Davies and Matthew Guinness
Dennis Price: Those British Faces
BBC Radio 3 Essay
Alternative American Ending
Restoration Comparison
Stills gallery
Excerpts from BECTU
Trailer

The Lavender Hill Mob (1951)
director: Charles Crichton | starring: Alec Guiness, Stanley Holloway, Sid James
Holland (Alec Guinness) is a shy retiring man who works as a bank transfer agent for the delivery of gold bullion. One day he befriends Pendlebury (Stanley Holloway), a maker of souvenirs. Holland remarks that, with Pendlebury's smelting equipment, one could forge the gold into harmless-looking toy Eiffel Towers and smuggle the gold into France. Soon after, they gain the services of professional criminals Lackery (Sid James) and Shorty (Alfie Bass) and the four plot what they believe will be the perfect crime – but which turns out to be anything but.
Extra features:
Introduction by Martin Scorsese
Excerpt from BECTU History Project - interview with Charles Crichton
Good Afternoon: Mavis interviews T.E.B. Clarke
Behind the Scenes stills gallery

The Man in the White Suit (1951)
director: Alexander MacKendrick | starring Alec Guinness, Joan Greenwood, Cecil Parker, Michael Gough
Sidney Stratton (Alec Guinness), a humble inventor, develops a fabric which never gets dirty or wears out. This would seem to be a boon for mankind, but the established garment manufacturers don't see it that way; they try to suppress it. Nevertheless, Sidney is determined to put his invention on the market, forcing the clothing factory bigwigs to resort to more desperate measures.
Extra features:
Exclusive Revisiting The Man in the White Suit featurette
Stills gallery

The Ealing Studios Collection Volume 1 will be released on UK Blu-ray on 31st March 2014 by StudioCanal at a yet-to-be-confirmed retail price.