Three films about teens and tearaways made in the 50s, 70s and 80s – one directed by Lewis Gilbert and featuring well-known names like Gary Kemp, Robin Askwith and Terence Morgan – comprise the fifth volume of Children's Film Foundation films, Runaways, released on DVD by the BFI next month.
Largely shot on location in London and Edinburgh, these rare films, Johnny on the Run (1953), Hide and Seek (1972) and Terry on the Fence (1985), have been digitally re-mastered and come with an illustrated booklet. Thoroughly entertaining, they are also a wonderfully enjoyable reminder of times gone by.
Johnny on the Run is a superb, award-winning early work by illustrious British director Lewis Gilbert (The Spy Who Loved Me, Operation Daybreak) which follows an orphaned Polish refugee who runs into trouble in the shape of two scheming thieves. Starring popular character actor Sydney Tafler (Carve Her Name with Pride, The Spy Who Loved Me) it also has an appearance by John Laurie (The 39 Steps, Frasier from Dad's Army).
Hide and Seek, directed by David Eady, stars a teenage Gary Kemp (Spandau Ballet, The Krays) as do-gooder Chris, who becomes entangled with a borstal escapee known locally as the Deptford Dodger. With Roy Dotrice (Clochemerle, Game of Thrones), Robin Askwith (Britannia Hospital, the Confessions series), Terence Morgan (Sir Francis Drake) and Alan Lake in supporting roles, this is amongst the best of the CFF's 1970s output.
Terry on the Fence was the last film made by British film industry stalwart Frank Godwin (producer, Woman in a Dressing Gown). When 11-year-old Terry runs away from home he only intends to put the wind up his parents. But a gang of older bullies, led by the tough skinhead Les (played by Neville Watson, now a London-based music producer and international DJ) soon draw him into their daunting criminal world of break-ins and stolen goods.
For over 30 years the Children's Film Foundation produced quality entertainment for young audiences, employing the cream of British filmmaking talent. Newly transferred from the best available elements held in the BFI National Archive, these much-loved and fondly remembered films finally return to the screen after many years out of distribution in specially curated DVD releases from the BFI.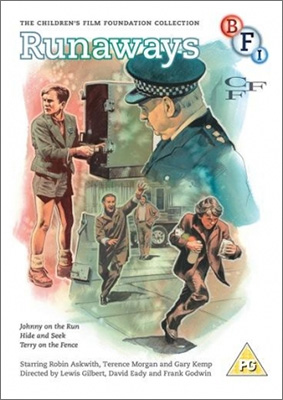 The Children's Film Foundation Collection: Runaways will be released on UK DVD on 21st April 2014 by the BFI at the RRP of £19.99.
Featuring brand new High Definition transfers of all of the films, the release will be accompanied by a booklet that will include contributions written by Gary Kemp and Neville Watson.
The sixth volume of CFF films, Outer Space (featuring Glitterball and Masters of Venus), will be released in October as part of the BFI's major celebration, Things to Come: Science Fiction.
Here's a clip of the teenage Gary Kemp in Hide and Seek: