The hit Danish comedy Klown follows two wildly inappropriate friends – played by celebrated international comedians Frank Hvam and Casper Christensen – as they run amok through the Danish countryside, plowing through endless awkward confrontations and unspeakable debaucheries. Hopelessly wrongheaded Frank "kidnaps" the 12-year-old nephew of his pregnant girlfriend in an eager attempt to prove his fatherhood potential, and they join sex-crazed Casper on his secret adulterous weekend canoe trip. Rampaging through exclusive brothels, hospitalizations, armed robberies and even prison, the three paddle downstream from one chaotic misadventure to the next, all culminating in a surprisingly sentimental portrait of friendship and a final shocking reveal.
Directed by Mikkel Nørgaard, Klown was the year's highest-grossing home-grown film when released in Denmark. It was critically acclaimed on its US release and, of course, has been picked up for a Hollywood remake by Warner Bros. Sacha Baron Cohen has recently hired Casper Christensen and Frank Hvam, the writers and stars of Klown, to pen his upcoming film The Lesbian.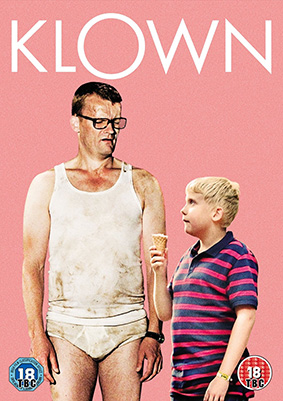 It is worth noting that while the film has indeed found some favour on home turf and with some US critics, being described as "a happy surprise" by Time Out New York and getting a thumbs-up from the likes of Indiewire and Little White Lies, others have not been quite so enthusiastic. You can make your own mind up if you so wish when it comes to UK DVD on 31st March 2014 courtesy of Arrow Films at the RRP of £12.99.
It doesn't look like there are any extra features on board.