Arrow Video has announced the latest addition to its roster of Jack Hill movies with the 1969 muscular stock car racing melodrama, Pit Stop. Following the release of blaxploitation classic Foxy Brown and the truly one-of-a-kind Spider Baby, Pit Stop has been treated to an all-new restoration (overseen by technical supervisor James White, previously responsible for Arrow Video's acclaimed Blu-rays of Zombie Flesh Eaters, Time Bandits, and The Fury) that hopes to bring fresh interest to one of Hill's lesser-known but arguably greatest works.
Reuniting Hill with the stars of Spider Baby, Sid Haig and Beverly Washburn, Pit Stop also features Oscar-nominee Brian Donlevy in his final big screen appearance, Ellen Burstyn in only her third film role and Richard 'Dick' Davalos, future cover star for The Smiths (he graces their final LP, Strangeways Here We Come) and former co-star to James Dean and Paul Newman.
The most dangerous game ever devised, to pit man against man, flesh against steel – the figure-8 race! Jack Hill (Coffy, Foxy Brown) follows up Spider Baby, once again teaming up with Sid Haig (House of 1000 Corpses) in one of his greatest roles for this action-spectacular crash-o-rama!
Richard Davalos (East of Eden) stars as Rick Bowman, a street punk who winds up in jail after a street race goes wrong. Bailed out by race promoter Grant Willard, Davalos is put in the deadly track where he comes up against Haig's maniacal winner Hawk Sidney. Featuring an outstanding supporting cast including Brian Donlevy (The Quatermass Xperiment) in his last film appearance, Ellen Burstyn (The Exorcist), billed as Ellen McRae, and Beverly Washburn (Spider Baby), Pit Stop is one of Hill's lesser known films but arguably his greatest.
Complementing this dual-format Blu-ray and DVD edition are a host of all-new extras, including an audio commentary with Hill, interviews with Hill, Haig and producer Roger Corman, and a demonstration of the extensive restoration work by James White. The accompanying collector's booklet includes new essays by US critic Glenn Kenny and the musicologist Gray Newell, who relates the history of forgotten Seattle psych band The Daily Flash and their soundtrack to Pit Stop.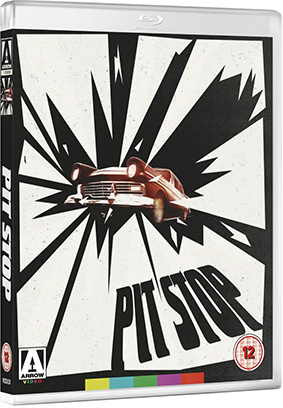 Pit Stop will be released on UK dual format (Blu-ray & DVD) as a director-approved special edition on 7th April 2014 by Arrow Films at the RRP of £24.99.
Boasting a new High Definition digital transfer supervised and approved by director Jack Hill and original mono 1.0 audio (uncompressed PCM on the Blu-ray), the release will have the following special features:
New audio commentary with Jack Hill moderated by his biographer Calum Waddell

Crash and Burn! – Jack Hill on the making of Pit Stop

Drive Hard – actor Sid Haig speaks about his experience of acting in Pit Stop

Life in the Fast Lane – producer Roger Corman on the genesis of Pit Stop

Restoring Pit Stop – restoration demonstration by Technical Supervisor James White

Theatrical trailer

Reversible sleeve featuring original and newly commissioned artwork by Jay Shaw

Collector's booklet featuring new writing on the film by critic Glenn Kenny and musicologist and writer Gray Newell on the film's soundtrack, illustrated with original stills and artwork