Lars von Trier's bold and unsurprisingly controversial new film tells the story of Joe (played by Charlotte Gainsbourg & newcomer Stacy Martin), a self-diagnosed nymphomaniac, from birth to the age of 50.
One night, a gentle old bachelor named Seligman (Stellan Skarsgård) finds Joe beaten up in an alley. After taking her to his flat he cares for her wounds and questions her about her life, listening intently as, over the film's eight chapters, she recounts the lusty, labyrinthine story of her life...
By turns profoundly moving, viscerally shocking, intellectually resonant and surprisingly funny,
Nymph( )maniac is a dazzling, daring and devilish work of cinematic art from the world's foremost maverick director.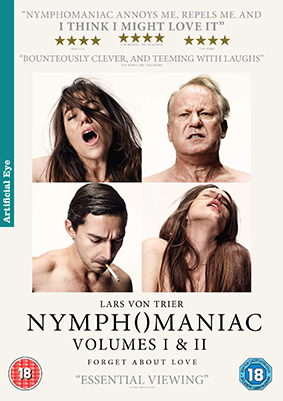 Described by CineVue as a film that is "as bonkers as you would expect, but not at the expense of being brazenly philosophical, psychologically stimulating and – most unexpectedly – outrageously funny," Lars von Trier's Nymph()manic Vol. I & Vol. 2 will be released on UK Blu-ray and DVD on 28th April 2014 by Artificial Eye at the RRP of £29.99 for the Blu-ray and £19.99 for the DVD.
Extra features will include:
Interview with Charlotte Gainsbourg

Interview with Shia LaBeouf

Interview with Stacy Martin

Interview with Stacy MartinStellan Skaasgard

Live Q&A with actors Stellan Skarsgård and Stacy Martin and Sophie Kennedy Clark