Game of Thrones star Richard Madden and Abbie Cornish (that new Robocop thingy) head up an all-star cast that includes Tim Roth (Made in Britain), Sam Shepard (The Right Stuff), Tim Blake Nelson (Oh Brother, Where Art Thou?) and Ian Hart (Land and Freedom) in the hit US mini-series Klondike.
Based on true events, the six-part adventure about the ruthless and cut-throat quest for gold in turn-of-the-century America takes its inspiration from Charlotte Gray's book Gold Diggers: Striking it Rich in the Klondike.
Having just graduated from college, the highly ambitious Bill Haskell (Madden), along with his best friend set off for the Yukon to stake claim on the gold that remains untapped in the hills near Dawson City. However, the trek quickly becomes more treacherous than they could have ever imagined with perilous rapids, avalanches and savage wolves standing between them and their fortune.
Once they reach Dawson City Bill meets beautiful businesswoman Belinda Mulrooney (Cornish), the two are instantly drawn to one another but when Haskell crosses the path of the ruthless local gangster known only as The Count (Roth) he soon realises that the real danger is only just beginning.
Probably not one we'd usually be signalling the release of, and it's had a mixed reception from viewers, but we've be overdosing on prime HBO series of late and the cast is certainly a bit of a draw. It's also directed by Simon Cellan Jones, who has a special place in our heart for his work on the excellent UK drama series Our Friends in the North. And it's executive produced by Ridley Scott. Does that really count?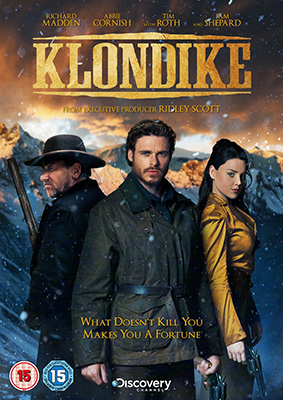 Klondike will be released on UK DVD on 5th May 2014 by Entertainment One as a 3-disc set at the RRP of £24.99.
The only listed extra features is a Discovering Kondike featurette.