Broadcast between 1962 and 1971, Dr Finlay became a global sensation and a national institution in the long running series, Dr. Finlay's Casebook, attracting 12 million devoted viewers in the UK alone. These surviving ten episodes are all that remain of the original second series, the rest were lost from the BBC archives.
Set between the wars, Series 2 sees the return of Bill Simpson as the forwardthinking Dr Finlay now firmly established in the community, working alongside the orthodox Dr Cameron (Finlay's senior partner in their practice), played by Andrew Cruickshank. Janet, their unflappable housekeeper, played by Barbara Mullen is courted by the irascible Dr Snoddie, played by Eric Woodburn, who disparages Finlay's modern methods at every opportunity he gets.
The famous theme tune was Trevor Duncan's march from A Little Suite, which Time Out Magazine has cited as 'one of the best TV theme tunes ever'.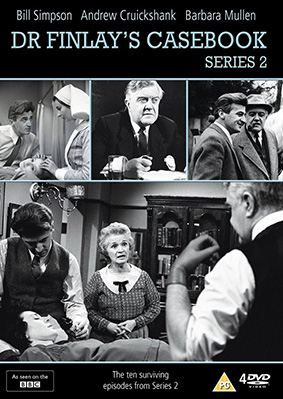 Dr. Finlay's Casebook – Series 2 Highlights will be released in the UK as a 4-DVD set on 21st April 2014 by Simply Media at the RRP of £29.99.