Michael Moore has called it 'one of the best documentaries about a band that I've ever seen'. The band is The National and the film Mistaken for Strangers is a rock documentary like no other.
Matt Berninger is the lead singer of acclaimed rock band The National, his younger brother Tom is a loveable slacker, who lives at home and makes low budget movies. The night before the band embark on their biggest tour, Matt invites Tom to join them as a roadie, but Tom has other ideas and his camera comes along for the ride. As he tries to capture the behind-the-scenes action, he winds up the band by poking the camera where it's not wanted, learns that they aren't as rock-and-roll as he want them to be and generally fails in his tour duties.
Tom's camera captures his journey as he finds himself living in Matt's shadow and acting out in a way only a little brother can – drinking, complaining, and struggling to balance his ambition with his responsibilities. An amazingly intimate and spirited film, Mistaken For Strangers delves into the joys and struggles of brotherhood.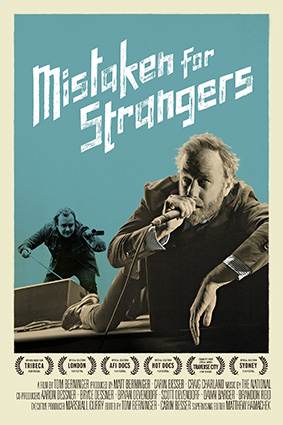 Formed in 1999, The National consists of vocalist Matt Berninger fronting two pairs of brothers: Aaron (guitar, bass, piano) and Bryce Dessner (guitar), and Scott (bass, guitar) and Bryan Devendorf (drums). Their first full-lengths, The National and Sad Songs For Dirty Lovers, and a crucial mini-album, Cherry Tree, preceded their signing to Beggars Banquet in 2004. Alligator (2005), included underground anthem Mr. November, and raised their profile as the National grew into an incendiary live band. Boxer (2007), featuring songs like Fake Empire, Mistaken For Strangers and Start A War, sold over three times as many copies as its predecessor. The National's 2010 release, High Violet sold over 600,000 copies and was widely recognized for its critical and commercial success around the world. 2013 saw The National sell out two nights at London's Alexandra Place and receive a Grammy nomination for their album Trouble Will Find Me in 'The Best Alternative Music Album' category. Trouble Will Find Me charted in the top 3 on both sides of the Atlantic, receiving international critical acclaim, and was featured in numerous Best Albums of 2013 media lists. Both individually and collectively The National's members have been involved in countless artistic, charitable and socio-political pursuits.
Described by The Hollywood Reporter as "Brutal, hilarious…unexpectedly honest" and the New York Observer as a film that "managed to defy every preconception" and "the best documentary we've seen all year," Mistaken for Strangers will be released by Dogwoof in UK cinemas and digital platforms on 27 June 2014 and on UK DVD on 14 July 2014 at a yet to be confirmed RRP.