Birds Eye View and Curzon Home Cinema have announced the UK's first Ultra VOD UK Premiere alongside a special online season of female filmmakers.
As part of the 2013 Birds Eye View Film Festival, the Curzon Artificial Eye title In Bloom will be the first film to be released on a Video On Demand platform in the UK before it is released in cinemas, with a simultaneous live Festival Opening Night UK Premiere at BFI Southbank on Tuesday 8th April 2014, alongside an online premiere on the same evening through Curzon Home Cinema and BT TV. The film will then be released in cinemas on the 2nd May.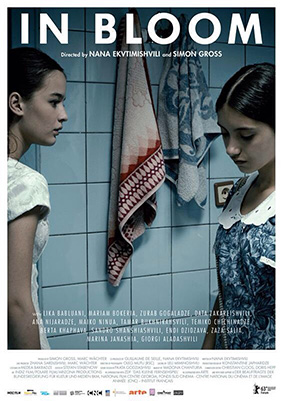 Set against the troubled backdrop of civil war in early nineties post-Soviet Georgia, In Bloom follows the lives of two inseparable 14-year-old friends as they learn to deal with the new world around them. The film was inspired by co-director Nana Ekvtimishvili's personal memories of her youth in the troubled early 1990s in Georgia and explores the relations between young people and the cultural context in which they live. The directors were keen for the film to be a journey into the past, present and future and look at what can be considered part of a culture and where is the limit after which culture can no longer justify certain behaviour.
The Ultra VOD premiere also kicks off a partnership for a month-long online season of work by some of the world's most exciting female filmmakers, showing on Curzon Home Cinema as part of Birds Eye View's year-round efforts to showcase and support the best women in film reaching a wider national audience. Birds Eye View's first move into online film distribution will see three new films licenced from past and present festivals.
Ultra VOD is currently a successful distribution model in the US. Brian De Palma's Redacted and Gareth Evan's Monsters were two of the first films to make use of the platform for pre-cinema releases. With the increasing appetite audiences have shown for seeking out distinctive new online content through VOD platforms, it also offers an exciting way forward to develop audiences for independent film.
Kate Gerova, Creative Director of Birds Eye View, said:
"Film festival audiences take chances on unknown films and this project examines whether their passion and enthusiasm for a film can be captured to drive opening weekend audiences. Working in partnership with Curzon Home Cinema and Artificial Eye we are able to curate audiences' film journey through the Birds Eye View Film Festival and Ultra VOD premiere to raise visibility of the film and increase audiences for inspiring independent cinema."
Director of Curzon Home Cinema, Phil Mordecai has said:
"We are delighted to be able to bring Curzon customers the UK's first Ultra VOD title. This marks the start of a new exciting way of releasing films in the UK and Curzon Home Cinema is proud to be part of bringing this excellent title to audiences in an innovative way. We look forward to featuring more Ultra VOD titles on the new Curzon Home Cinema site which will launch later in the year."
You can find more details about Curzon Home Cinema over at their web site at: http://www.curzoncinemas.com/film_on_demand/
And here's a trailer for In Bloom: