Electric dance music trio Swedish House Mafia announced yesterday that the their film Swedish House Mafia: Leave the World Behind and its soundtrack – One Last Tour: A Live Soundtrack – will both be available digitally exclusively from iTunes from 15th April 2014.
With breath-taking live moments, huge laughs and dark lows (we're quoting the press release here, in case you hadn't guessed), Leave the World Behind follows the legendary Swedish House Mafia as they decide to end the group in order to save their friendship. Director Christian Larson (Take One) captures their final world tour, which became the largest worldwide electronic music tour in history with over million sold in just one week.
Executively produced by Jonas Åkerlund (Spun, Madonna: I'm Going to Tell You a Secret) the film received its world premiere on March 12th 2014 during the SXSW Festival. The film also received a special UK screening on March 12th 2014, with fans attending a sold out Odeon Leicester Square with donations being made from ticket sales to the Teenage Cancer Trust.
Reviews of the film are still a little thin on the ground at the moment, but most have been very positive, with Marc Adams in Screen Daily claiming, "Christian Larson's rather beautiful, emotionally striking and often uplifting Leave the World Behind is a real delight" and Mark Searby at Screenjabber assures us that "Leave The World Behind will have you dancing out of your seat." I have been known to do that.
Getting a simultaneous release, also exclusively on iTunes, will be the album One Last Tour: A Live Soundtrack, a 90 minute recording at Masquerade Motel in Los Angeles attended by 70,000 people. The recording captures all the energy of the live concept, their final stand-alone show of the entire tour, and features all the Swedish House Mafia singles, tracks and exclusive bootlegs from Florence and the Machine, Steve Angello, Axwell, Sebastian Ingrosso, Dimitri Vegas and Like Mike and many more.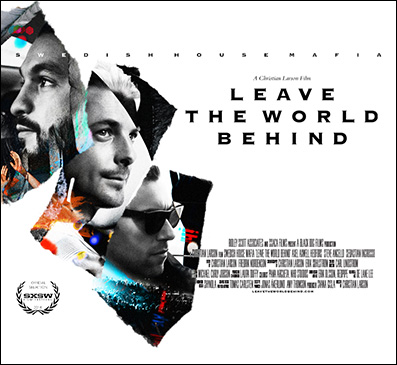 Swedish House Mafia: Leave the World Behind will be released exclusively on iTunes on 15th April 2014 at the RRP of £7.99 on standard definition, £9.99 on HD. One Last Tour: A Live Soundtrack will be priced at £9.99.