StudioCanal have announced the UK DVD and Blu-ray release of three fondly regarded British films from 1954 – The Belles of St. Trinian's, Hobson's Choice and An Inspector Calls – all as 60th Anniversary editions with remastered transfers and new extra features.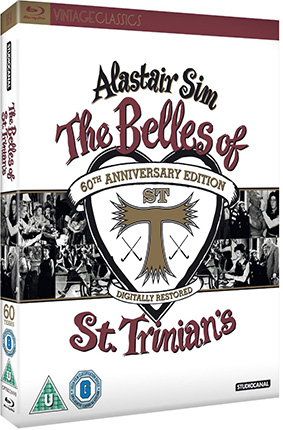 The Belles of St. Trinian's – DVD and Blu-ray 28th April 2014
A classic comedy film set in the fictional St Trinian's School, released in 1954, directed by Frank Launder and written by Frank Launder and Sidney Gilliat. Featuring a star cast of British comedy talent including - Alastair Sim (as both Miss Millicent Fritton and Clarence Fritton), Joyce Grenfell, George Cole, Beryl Reid and many others.
The unruly schoolgirls of St. Trinian's are more interested in men and mischief than homework and hockey. But greater trouble beckons at the school when the arrival of Princess Fatima of Makyad coincides with the return of recently expelled Arabella Fritton, who has kidnap on her mind.
Brand new extra features:
The Girls of St Trinian's.
Interview with Alistair Sim's Daughter, Merlith McKendrick.
Interview with film historian Geoff Brown.
Interview with Steve Chibnall, Professor of British Cinema, De Montfort University.
Interview with Melanie Williams, Senior Lecturer in Film Studies UEA.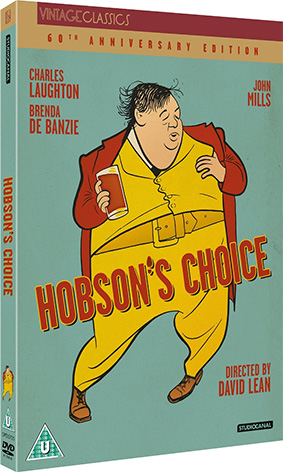 Hobson's Choice – DVD and Blu-ray 5th May 2014
Henry Horatio Hobson (Charles Laughton) is the owner of a well-established boot shop in nineteenth century Salford, Lancashire and the father of three daughters. The eldest, Maggie (Brenda De Banzie), shoulders both home and business responsibilities while Hobson whiles the time away at the local pub. The younger sisters are both being courted by neighbours, but Hobson refuses to give the couples settlements. Maggie becomes tired of his oafish behaviour and decides to take matters into her own hands by seeking a husband.
Much to the hilarity and consternation of her father, Maggie sets her sights on shy Will Mossop (John Mills), Hobson's master boot-maker. Together they set up a rival boot shop, with Maggie soon turning her mind to helping her sisters marry their chosen partners.
Digitally restored and featuring brand new extras, Hobson's Choice is a timeless masterpiece that marked a temporary return to David Lean's period of literary adaptions (Great Expectations, Oliver Twist), with the film going on to win multiple awards.
New extras include:
Interview with Prunella Scales

Interview with associate producer and co-writer Norman Spencer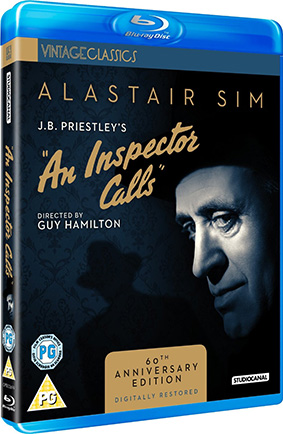 An Inspector Calls – DVD and Blu-ray 12th May

The Birling family are rich, pampered and complacent. It is 1912, and the shadow of the impending war has yet to fall across their lives. As they sit down to dinner one night, celebrating the engagement of the eldest child, Sheila, to prosperous business man Gerald, a knock at the door announces the arrival of a visitor who will change their lives forever.

Based on the classic stage play by J.B. Priestley and directed by Guy Hamilton (Goldfinger, Battle of Britain), An Inspector Calls stars the incomparable Alastair Sim and co-stars Jane Wenham, Brian Worth, Eileen Moore, Bryan Forbes and Norman Bird.

This special 60th anniversary edition has been fully restored and features brand new extra content.

Unfortunately the press release doesn't tell us what it is.