Battle Company: Korengal picks up where the justifiably acclaimed war documentary Restrepo left off... the same men, the same valley, the same commanders, but a very different look at the experience of war.
From the writer and co-director of Restrepo (with the late Tim Hetherington) and the writer of War, Sebastian Junger spent a year with troops in Afghanistan. This is his experience following the 2nd Platoon of Battle Company on a 15-month deployment in the Korengal Valley of northeast Afghanistan.
Battle Company: Korengal explains how war works, what it feels like and what it does to the young men who fight it. As one cheers when they kill an enemy fighter, another looks into the camera and asks if God will ever forgive them for all the killing. As one grieves the loss of his friend in combat, another explains why he missed the war after his deployment ended and he would go back in a heartbeat if he could.
Every bit as intense and affecting as its predecessor, Battle Company: Korengal is an arresting insight into how war affects soldiers on the front line and goes a step further in bringing their experiences to audiences in a uniquely raw and honest portrayal.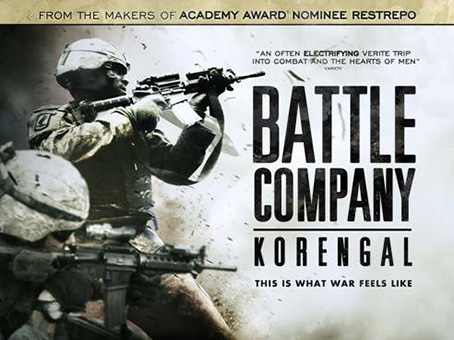 Battle Company: Korengal will be released in UK cinemas on 30th May 2014, on Digital Download and Video on Demand on 2nd June 2014 and on DVD and Blu-ray 9th June 2014 by Kaleidoscope Home Entertainment. The DVD will retail at £17.99 and the Blu-ray at £19.99.
No news yet on possible extra features.
More details should follow – even the film's official web site is still in construction as we write.