It gave 80s horror a gore-filled boot up the backside, proudly challenging others to match its level of blood and guts, and now Re-Animator is being brought back to life, this time in a what we are told is a stunning high definition Blu-ray thanks to Second Sight Films, who are starting to give Arrow a run for their money as a distributor of HD restorations of cult favourites from years past.
And as if the restoration wasn't enough, this outrageous, game-changing horror directed by Stuart Gordon (From Beyond, Edmond) and produced by Brian Yuzna (the director of one of our favourites, Society), comes complete with a bucket of additional features and a stunning Steelbook edition. There's more gore than ever too - the double-disc Blu-ray contains not one but two versions of the witty gorefest that is Re-Animator, extended AND deleted scenes, as well as commentaries, a documentary, interviews and more...
Brilliant, if somewhat deranged, medical student Herbert West arrives at Miskatonic Medical School and immediately sneers at his professor's outdated views on death. West has his own outlandish theories and has concocted a serum that will bring the dead back to life. Roping in fellow student Dan Cain their shocking experiments work all too well with horrific and very messy results.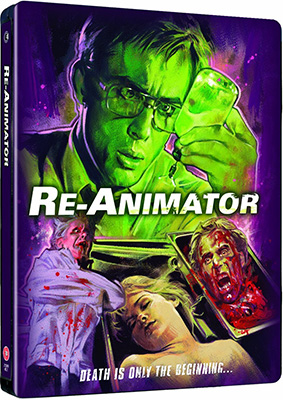 Re-Animator will be released as a limited edition two-disc Blu-ray Steelbook and a two-disc DVD version on 2nd June 2014 by Second Sight at the RRP of £15.99 for DVD and £24.99 for the Blu-ray Steelbook.
The film will also be available to download on 19th May and via video on demand on 26th May. But you won't get all of the features that distinguish the disc versions:
The 'Unrated' Version – brand new 4K restoration

The 'Integral' Version (exclusive to Blu-ray)

Audio commentary with director Stuart Gordon

Audio commentary with producer Brian Yuzna and actor Jeffrey Combs, Robert Sampson, Barbara Crampton and Bruce Abbott

Re-Animator Resurrectus documentary

Interviews wih Stuart Gordon and Brian Yuzna, writer Dennis Paoli, composer Richard Band and Fangoria editor Tony Timpone

Extended scenes, deleted scenes and trailers

Gallery
You can read our review of the previous Anchor Bay DVD release of Re-Animator here.