StudioCanal have announced that the British comedy Cuban Fury will be available on DVD, Blu-Ray, EST and VOD in June. Cuban Fury stars Nick Frost (Shaun of the Dead, Hot Fuzz, Spaced), Rashida Jones (The Social Network, I Love You, Man), Chris O'Dowd (Bridesmaids, Festival, The IT Crowd), Olivia Colman (Hot Fuzz, Broadchurch, Peep Show), Ian McShane (Sexy Beast, Deadwood) and Kayvan Novak (Four Lions, Fonejacker).
1987. Poised to sweep the floor at the UK Junior Salsa Championships, 13-year-old Bruce Garrett has fire in his heels and the world at his feet... Until a freakish bullying incident robs him of his confidence and his life is diverted down a very different path.
So it is that 22 years later, having locked away his boyhood dreams, Bruce (Nick Frost) finds himself out-of-shape, unloved and well and truly wedged in his "comfort zone". It takes Julia (Rashida Jones), his smart, funny, gorgeous new American boss, to shake him from his emotional stupor and force him to re-examine his dull, passionless existence. But she's out of his league, and with expert lothario and alpha-male office nemesis Drew (Chris O'Dowd) overtly in pursuit of her, it's enough to make Bruce want to give up on himself all over again. Can his loyal sister (Olivia Colman), childhood dance instructor (Ian McShane), and crazy new amateur salsa pal (Kayvan Novak) help Bruce unshackle his dancing beast, regain his long lost fury and claim the love of his life?
Cuban Fury was written by Jon Brown (Miranda, Misfits, Fresh Meat), from an original idea by Nick Frost, and marks the feature film directorial debut of James Griffiths (Up All Night, Free Agents). It is produced by Nira Park and James Biddle (Big Talk), and executive producers are Nick Frost, Matthew Justice and Rachael Prior), Danny Perkins and Jenny Borgars (StudioCanal) and Tessa Ross (Film4).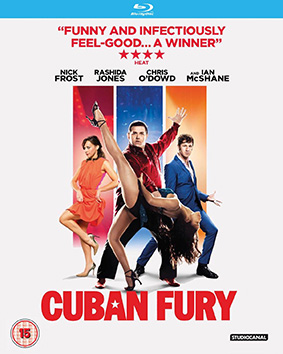 Cuban Fury will be released on UK Blu-ray, DVD, EST and Video on Demand on 9th June 2014 by StudioCanal. The Blu-ray will be priced at
Extra features on the Blu-ray and DVD editions will include:
Cast audio commentary

Behind the scenes

Feet of Fury

Out-takes

Bejan's Ball Sweat

Deleted scene

Stills gallery