Metrodome have announce the June 2014 DVD release of Restless, a British TV miniseries from 2012, and as is the way with their aneamic press releases, they've given us precious little to work with here. Even the plot summary is slim for a 3-hour film:
Once a spy, always a spy. Sally Gilmartin can't escape the secrets of her past. Born Eva Delectorskaya, the WWII-era spy was forced into hiding after a critical mission ended with a deadly betrayal. Years later, she recruits her unsuspecting daughter to uncover the dangerous truth about who she really is.
Wow, that's it? You'll find a far more detailed summary on the film's IMDb page courtesy of user don @ minifie-1:
1976:- Ruth Gilmartin visits her mother Sally in rural Cambridgeshire and is amazed to learn she is a Russian refugee born Eva Delectorskaya,recruited as a spy by the British in 1939. After narrowly escaping death in the Netherlands Eva is sent to America to seduce the married Mason Harding,an adviser to the president ,to find out if the Americans intend joining the war, a mission she successfully accomplishes. However a second assignment is to supply a map to American agents supposedly outlining a planned German invasion of the States but Eva spots errors in the map,informing her spy master and lover Lucas Romer and other colleagues. Though the map fools the president Eva survives an attempt to kill her and, as her fellow spies die one by one ,is convinced she was betrayed. Even in the 1970s, years after the event, she believes her life is in danger and shocks Ruth by buying a shotgun for her protection. She gets Ruth to contact Romer, posing as a journalist interested in wartime espionage...
Now that's more like it. Adapted from his own novel by William Boyd, whose screenplay credits include Chaplin and The Trench (which he also directed), it was directed by Edward Hall, who previously handled episodes of Kingdom, MI-5 and that bloody Downton Abbey thing. The cast includes Hayley Atwell, Rufus Sewell, Michelle Dockery, Michael Gambon and Charlotte Rampling.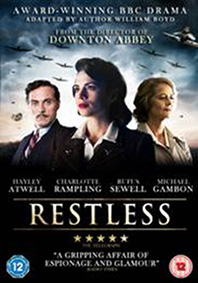 Restless will be released on UK DVD on 16th June 2014 by Metrodome Distribution at the RRP of £19.99.
As is also the way with Metrodome press releases, there's no information on possible extra features. Doing well here, aren't we. But we have a trailer!