Pele, Zico, Jairzinho, Renaldo, Ronaldinho, Neymar... Some of world's greatest footballers all have one thing in
common: they all hail from Brazil, the land of footballing legends, and this year's World Cup hosts.
But what is it about the country that creates such amazing talent?
A brand new documentary Ginga: The Soul of Brasilian Football explores the essence of what makes Brazil one of the greatest of all footballing nations. Ginga is the mysterious, indefinable magical quality of rhythm and movement which sets the Brazilian game apart from all the others.
Ginga follows seven young footballers from a diverse range of social and ethnic backgrounds, providing an insight into the passionate culture that produces some of the world's finest footballers.
The original artwork has been created by renowned graffiti artists Os Gêmeos (The Twins), identical twins Otavio and Gustavo Pandolfo, who started painting graffiti in 1987 and gradually became a main influence in the local scene and helped define Brazil's own style. From tags to elaborate murals their work can often be distinguished by its yellow-skinned characters, with subjects ranging from family portraits to commentary on São Paulo's social and political circumstances, and Brazilian folklore.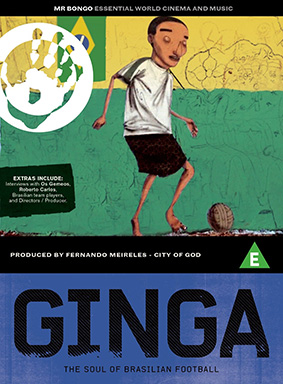 Produced by Fernando Meirelles (City of God, The Constant Gardener) and directed by Marcelo Machado
(Tropicalia), Hank Levine and Tocha Alves, Ginga kicks off on UK DVD on 12th May 2014 courtesy of Mr. Bongo Films at the RRP of £12.99.
Special features will include:
OS Gemeos Interview

Interview with director and producer

Interview with Roberto Carlos

Interviews with Ronaldinho, Ronaldo and Fernando Meireles