Eureka! Entertainment have announced the DVD & Blu-ray release for the multi-award winning The Rocket, Australia's official selection for the Best Foreign Language Film category for the 86th Academy Awards, and debut feature from director Kim Mordaunt about a 'cursed' twin who guides his family to a new life in Laos.
Laos: A ten year old boy, Ahlo, who is believed to bring bad luck, is blamed for a string of disasters. When his family loses their home and are forced to move, Ahlo meets the spirited orphan Kia and her eccentric uncle Purple: an ex-soldier with a purple suit, a rice-wine habit and a fetish for James Brown. Struggling to hang on to his father's trust, Ahlo leads his family, Purple and Kia through a land scarred by war in search of a new home. In a last plea to try and prove he's not cursed, Ahlo builds a giant explosive rocket to enter the most lucrative but dangerous competition of the year: the Rocket Festival. As the most bombed country in the world shoots back at the sky, a boy will reach to the heavens for forgiveness.
Gripping yet heart-warming, The Rocket is a deeply personal story about the determination of a boy who has the odds stacked against him, set against the epic backdrop of a war-ravaged country on the brink of huge change. With remarkable access to real rituals and festivities in the stunning mountains of Laos, The Rocket is a unique view into a world never seen on film before.
Written and directed by Kim Mordaunt (Bomb Harvest), The Rocket features an extraordinary leading performance from gutsy former street kid Sitthiphon Disamoe as Ahlo, and veteran actor and comedian Thep Phongam as the damaged but humorous Purple, an ex-soldier who becomes mentor to the young protagonist. The critical response has been impressively positive, with Empire calling it, "A beautiful, engrossing odyssey," Total Film describing it as a "strikingly original feelgood fable," and The Independent as a "colourful magical-realist underdog fable."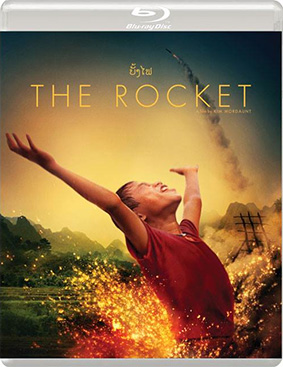 The Rocket will be released on UK DVD and Blu-ray on 2nd June 2014 by Eureka! Entertainment at the RRP of £12.99 for the DVD and £15.99 for the Blu-ray.
Special features are:
Feature length director commentary with Kim Mordaunt

The making of The Rocket with Kim Mordaunt

Theatrical trailer