Arrow Films' Arrow Academy label has announced the release of the iconic and influential cinematic experiences Koyaanisqatsi and Powaqqatsi, directed by Godfrey Reggio and produced by Francis Ford Coppola and George Lucas. Both discs will be released on Blu-ray for the first time in the UK on 12th May 2014.
Free of traditional storytelling methods – there is no dialogue, no narrative, no cast or characters – Koyaanisqatsi and Powaqqatsi present exquisite widescreen imagery that weaves and dances, slows and races to the dizzying tempo of Philip Glass's extraordinary score, tracing life's shift from nature's cycles to technology's inescapable forward momentum.
These feature-packed discs will be released as a deluxe Blu-ray featuring newly restored digital transfers of Koyaanisqatsi and Powaqqatsi, both approved by director Godfrey Reggio, an introduction by filmmaker and composer Gary Tarn (Black Sun, The Prophet), interviews with Reggio and composer Philip Glass on the making of both films and Anima Mundi, Reggio's 28-minute montage of over seventy animal species, scored once again by Glass. The Blu-ray will also include a new illustrated collector's 72-page booklet featuring writing on the films by Anton Bitel, Michael Brooke, Peter Cowie and Jean-Baptiste Gouyon.
ko●yaa●nis●qatsi (from the Hopi language)
n., 1. crazy life 2. life in turmoil 3. life out of balance 4. life disintegrating 5. a state of life that calls for another way of living

po●waq●qa●tsi (from the Hopi language, powaq sorcerer + qatsi life)
n., an entity, a way of life that consumes the life forces of other beings in order to further its own life

Told without dialogue, narration, cast or characters, Koyaanisqatsi and Powaqqatsi are dizzying, hypnotic examples of cinema set to extraordinary scores by Philip Glass. The first instalment concentrates on the United States, contrasting its natural beauty with a population ever more dependent on modern technology. The second switches to the Southern hemisphere and focuses on cultures and traditions that are slowly eroding away as the modern world takes over.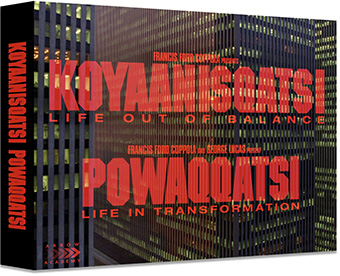 Koyaanisqatsi and Powaqqatsi will be released as a 2-disc Blu-ray set on 12th May 2014 by Arrow Films as part of the Arrow Academy label at the RRP of £34.99.
The set will feature new, restored digital transfers of Koyaanisqatsi and Powaqqatsi, approved by director Godfrey Reggio, with 5.1 surround DTS-HD Master Audio soundtracks, and have the following extras:
Introduction by filmmaker and composer Gary Tarn (Black Sun, The Prophet)

Interviews with director Godfrey Reggio and composer Philip Glass on the making of Koyaanisqatsi and Powaqqatsi

Anima Mundi (1992): Reggio's 28-minute montage of over seventy animal species, scored by Philip Glass

Original theatrical trailers for Koyaanisqatsi and Powaqqatsi

Illustrated collector's booklet featuring new writing on the films by Anton Bitel, Michael Brooke, Peter Cowie and Jean-Baptiste Gouyon