Arrow Video has announced the UK Blu-ray release of The Delta Force, the action-packed 1986 Cannon classic, hailed by Roger Ebert as "taut and exciting", which will make its UK Blu-ray debut on 5th May 2014 in a newly restored transfer with a host of brand-new extra features.
The Delta Force starts out like a reality-based docu-drama focussing on the complicated problem of international terrorism, but culminates with cartoon-styled antics of movie heroism, as well as optimistic flights of fancy about the efficacy of American military might in the world's most difficult region: the Middle East.
Featuring a bumper crop of bonus features such as a newly restored presentation of the feature, transferred from original film elements by MGM, a new documentary, Genre Hijackers in which filmmaker Mark Hartley discusses the explosive legacy of Cannon Films, an interview with long-time Chuck Norris writer-collaborator James Bruner and a new interview with Commandant Christian Prouteau, founder of the French GIGN and instructor of the first Delta Force. Alongside this, the Blu-ray disc will also feature the original theatrical trailer, a reversible sleeve featuring original and newly commissioned artwork by Graham Humphreys and a collector's booklet featuring new writing on the film by author John Kenneth Muir and a contemporary article on Cannon Films, illustrated with original archive stills and posters.
American Travel Ways Flight 282 has been hijacked by a group of terrorists claiming to represent the New World Revolutionary Organisation. The Delta Force, under the leadership of Major Scott McCoy (Chuck Norris), is called in to handle the situation. Still smarting from an ill-fated hostage rescue mission several years prior, this elite squad of special forces is determined to succeed in its mission this time – and assert the might of the American military once and for all.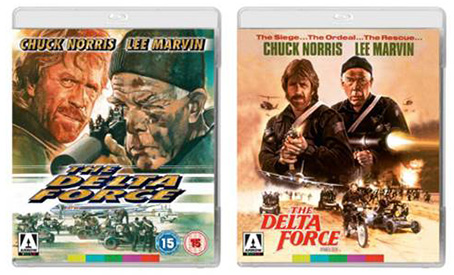 The Delta Force will be released on UK Blu-ray on 5th May 2014 by Arrow Films at the RRP of £24.99.
Featuring a High Definition Blu-ray (1080p) presentation of the feature, transferred from original film elements by MGM, original uncompressed 2.0 PCM stereo audio and optional English SDH subtitles for the deaf and hard of hearing, the disc will have the following extras:
Genre Hijackers: Mark Hartley on Cannon Films – The filmmaker discusses the explosive legacy of Cannon Films and legendary producers Menahem Golan and Yoram Globus

Chuck Norris Scribe: An interview with James Bruner, the writer behind numerous Cannon blockbusters including The Delta Force and Invasion U.S.A.

May The Delta Force Be With You! – An interview with Commandant Christian Prouteau, founder of the French GIGN and instructor of the first Delta Force

Original theatrical trailer

Reversible sleeve featuring original and newly commissioned artwork by Graham Humphreys

Collector's booklet featuring new writing on the film by author John Kenneth Muir and a contemporary article on Cannon Films, illustrated with original archive stills and posters