UK distributor Simply Media have announced 21 more titles in their "Hollywood Classics" range, a slightly optimistic use of the term for a mix of past favourite titles and less widely seen Hollywood films by and featuring established talent. All will be released on the 21st May 2014 at the RRP of somewhere between £10 and £13 per disc (no exact price has been supplied). No extras have been announced for any of the titles.
The details for each are included below. Get ready, this is going to be a long piece.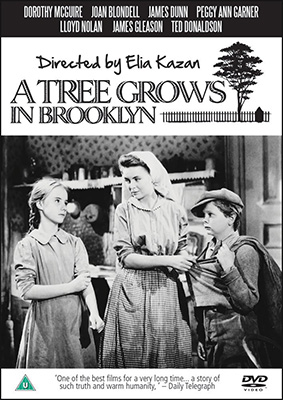 A Tree Grows in Brooklyn (1945)
Elia Kazan made his directorial debut with this adaptation of Betty Smith's novel about a young girl growing up in turn-of-the-century New York, trying to rise above her tenement existence.
Sentimentally filmed by Kazan, this Oscar winner is distinguished with astounding performances by James Dunn as the wistful, alcoholic father, who won the Oscar for Best Supporting Actor; and Dorothy McGuire as a strong-willed mother steadfastly holding the family together no matter what crisis arises. Peggy Ann Garner won a special Oscar for her performance as their 13-year-old daughter, Francie (Most Promising Juvenile Performer). Joan Blondell co-stars as Francie's flamboyant, free-spirited aunt, whose means of financial support is a neverending source of neighborhood gossip.
"Here's one of the occasions when Hollywood rises to brilliant heights of artistic accomplishment… A warm, sincere and deeply moving film" – News of the World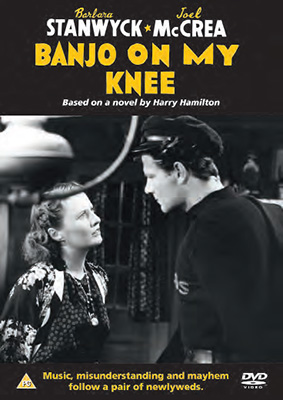 Banjo on My Knee (1936)
A lively riverboat musical, based on the novel by Harry Hamilton, starring Joel McCrea and Ziegfield Follies star Barbara Stanwyck.
Barbara Stanwyck and Joel McCrea are Pearl and Ernie, a dewy-eyed young couple in Mississippi. Ernie has lived on the Mississippi River all his life, a member of the proud "shanty-boat people". Pearl is a "land girl," and unaccustomed to the simple ways of the river folk. But Pearl is determined to be a good wife to Ernie, and her new father-in-law, Newt (Walter Brennan) has high hopes for a grandchild. These sweet, straightforward plans go awry on their wedding day when a local troublemaker tries to force a sloppy kiss on the new bride. Ernie intervenes, and knocks him overboard. The man fails to resurface, and Ernie jumps into the river and flees.
Songs include Where the Lazy River Goes By, With a Banjo on My Knee, There's Something in the Air and St Louis Blues.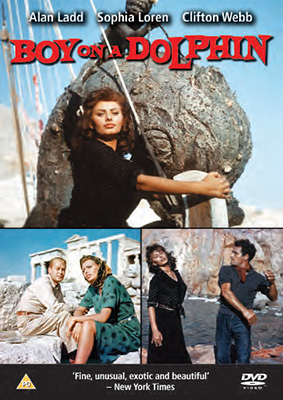 Boy on a Dolphin (1957)
Sophia Loren and Alan Ladd star in a sun-drenched romantic adventure starring as a diver and an archaeologist battling over the fate of a rare Greek statue.
Phaedra (Sophia Loren in her first Hollywood role) is a poor sponge diver on the lovely Greek isle of Hydra. While deep diving, she discovers an ancient brass and gold statue of a boy riding a dolphin. Anthropologist Jim Calder (Alan Ladd), working in Greece to restore national treasures, wants the artifact but he can't pay for it, and asks Phaedra to donate it to his museum. In the meantime, Phaedra's lazy boyfriend has seized on the opportunity to sell the treasure to an unscrupulous art collector (Clifton Webb), who not only takes a shine to Phaedra, but intends to smuggle the sculpture out of the country.
"Will forever be remembered for one thing: Sophia Loren, aged 23, rising from the waters of the Mediterranean, her mustard yellow shirt soaked and clinging to her beauty queen figure. This was her Hollywood debut and, boy, was it eye-catching" – New York Times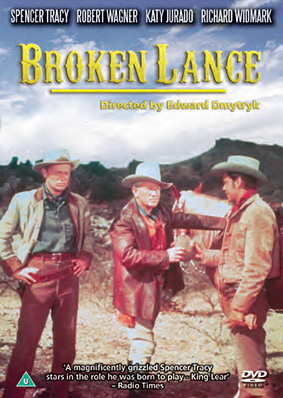 Broken Lance (1954)
Based on Shakespeare's King Lear, director Edward Dmytryk's powerful Oscar-winning Western is the epic tale of a rancher and his four sons.
Cattle baron Matt Devereaux (Spencer Tracy) rules his vast empire with a ruthless hand. Matt's greatest love is for his Indian wife, Princess (Katy Jurado) and their son Joe (Robert Wagner). Matt's three sons from a previous marriage deeply resent them. When Devereaux illegally raids a copper mine that has been polluting his water, it leads to trouble for his youngest son. Joe takes the rap for his father's crime and is sent to jail. When Joe emerges from prison he finds that his world has changed; his rebellious step-brothers have driven his mother away and destroyed their father's cattle empire.
Oscar winning screenplay and a terrific score combine to make this take of greed, corruption and revenge one of the greatest Westerns ever made.
"A magnificently grizzled Spencer Tracy stars in the role he was born to play - King Lear" – Radio Times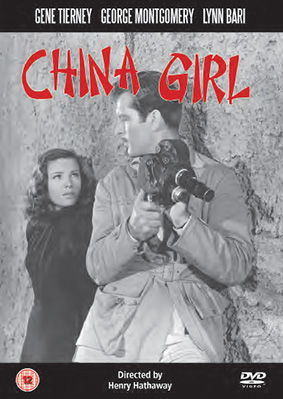 China Girl (1942)
A man will fight for only three things – for a woman, for himself and for a better world. Directed by Henry Hathaway (True Grit, Niagra) and starring Gene Tierney, George Montgomery and Lynn Bari.
In 1941, cynical Johnny Williams, a reckless and self-seeking newsreel cameraman, is detained by military officials in Japaneseoccupied China. They offer him a tempting sum of money to spy for them. He manages to escape with an American couple, and the trio wind up in Mandalay, where he is captivated by a beautiful Chinese woman, Haoli Young. Haoli warns Johnny about his association with the Japanese and the dubious company he keeps. But in spite of her suspicions they fall in love. One day Haoli abruptly disappears. A devastated Johnny learns that she and her father returned to Kunming where they run a school for orphans. And Johnny knows that the Japanese are about to bomb Kunming...
"Some excellent action sequences… the script is a cut above the usual" – TV Guide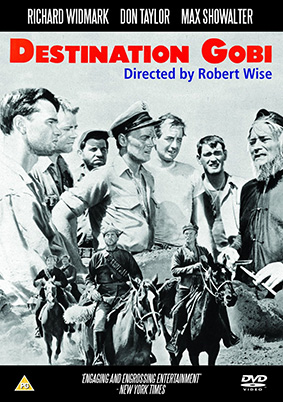 Destination Gobi (1953)
The four-time Oscar winning director Robert Wise is best known for The Sound of Music and West Side Story. Here, he turns his attention to World War II.
Richard Widmark accompanies a group of US military meteorologists, sent to Inner Mongolia during World War II, serving as a weather station monitoring conditions for the Navy. When their commanding officer is killed during a Japanese attack, Chief Petty Officer Sam McHale (Widmark) takes the reins and leads the men on an 800-mile trek in the intense arid Gobi Desert to safety. When their convoy comes under attack from the Japanese, they are forced to seek the help of a group of Mongol tribesmen.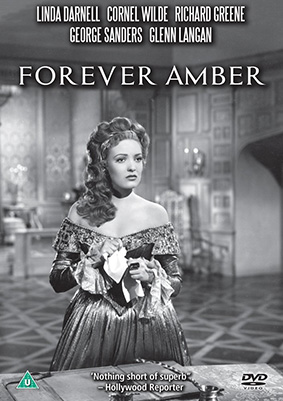 Forever Amber (1947)
17th Century romantic adventure stars Linda Darnell as the amorous courtesan who is able to conquer any man – except the one she wants. Directed by Otto Preminger (Laura, The Man With the Golden Arm) and starring Linda Darnell, Cornel Wilde, Richard Greene and George Sanders.
Amber, a village maid, is abandoned pregnant and penniless by Bruce Carlton (Cornel Wilde), a gallant adventurer whom she desperately loves. Amber uses her wits, beauty and courage to sleep her way to the highest position a woman could achieve in Restoration England – that of favourite mistress of the Merry Monarch himself, Charles II (George Sanders) – all in the hope that Bruce will return. From whores and highwaymen to courtiers and noblemen, from the Great Plague to the Fire of London, Amber experiences it all. But throughout her sexual escapades, her heart remains true to only one man. With its dazzling reproduction of the Restoration, it's convincing swordplay, court drama and war, Otto Preminger's grand swashbuckler is based on the racy novel by Kathleen Winsor.
"A visually stunning costume drama…With Jessica Tandy in one of her first screen roles, and David Raskin's score – one of the best in Hollywood history" – USA Today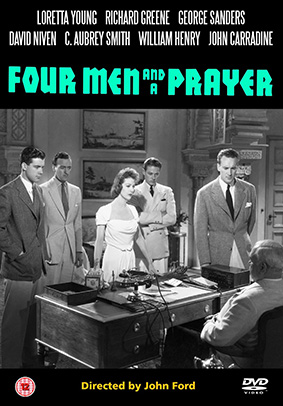 Four Men and a Prayer (1938)
To prove their father was murdered, four brothers fight to bring down a powerful arms syndicate. Directed by John Ford and starring Loretta Young, Richard Greene, George Sanders, David Niven, C. Aubrey Smith, William Henry and John Carradine.
A British Indian Army colonel is blamed for giving orders that resulted in a massacre of his troops. Dishonourably discharged from the army he returns to London. His four sons, Rodney, a student at Oxford, Wyatt, a London barrister, Chris, an aviator and playboy, and Geoffrey, an attaché at the British Embassy in Washington, rally round to support him. He tells them he is the victim of a conspiracy by an arms syndicate, before he is found dead, apparently having killed himself. John Ford directed this sprawling saga that treks from India to South America, London, Egypt and the USA as the young men seek to uncover the truth about their revered father.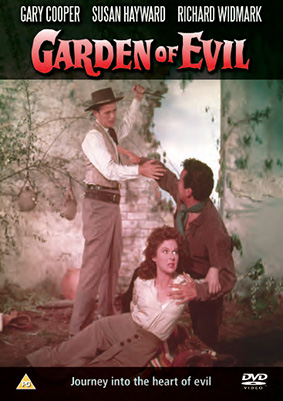 Garden of Evil (1954)
Gary Cooper, Richard Widmark, Susan Hayward, and Cameron Mitchell star as fortune-hunters, alongside Susan Hayward. Directed by Henry Hathaway.
Three fortune-hunters heading for the Californian Gold Rush find themselves stranded in a Mexican port. Gary Cooper plays Hooker, a rootless man of few words. Richard Widmark is Fiske, a slick gambler with a sardonic sense of humour; and Cameron Mitchell plays Daly, an impetuous gunman with a weakness for women. While they pass the time in a cantina (watching Rita Moreno singing and dancing), a beautiful American (Susan Hayward) walks in and offers an enormous reward to anyone who can rescue her husband, trapped in a goldmine in hostile Apache territory. The three of them, together with a local man, accept and the group ventures on a journey into the remote mountains, beset with tension, lust, jealousy, suspicion and fear.
"The acting is above average with a handsome production and dazzling on-location shots in Mexico" – TV Guide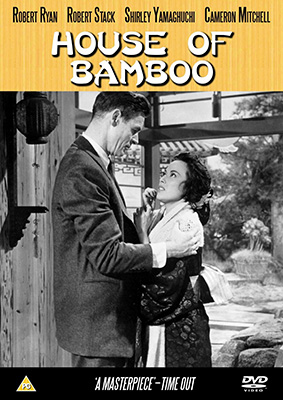 House of Bamboo (1955)
Filmed in Japan, Sam Fuller's 1955 crime noir tells the story of Eddie Kenner (Robert Stack), a U.S. army operative sent to Tokyo as an investigator.
A gang of American expatriates is robbing U.S. military ammunition and supply trains, and using military tactics to do it. They're a ruthless bunch, killing not only any troops and police that get in the way but also their own wounded. Working undercover, Kenner must gain the trust of ex-soldier Sandy Dawson (Robert Ryan), who now heads the gang. The beautiful Japanese wife of a slain gangster is all too willing to help.
"One of Samuel Fuller's best, tough, sometimes nasty, but always exciting… unites three of his favorite topics: military comradeship, the underworld, and the Far East" – Chicago Reader
Read our review of the previous Optimum DVD here.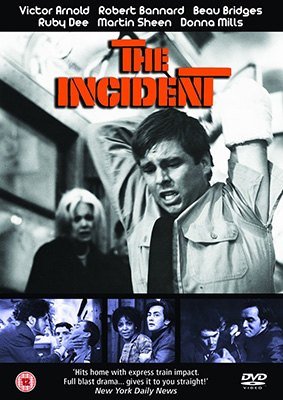 The Incident (1967)
Two teenage delinquents terrorize the passengers of a New York City subway train.
After mugging a helpless old man, two young thugs take over a Manhattan-bound subway car, trapping the 15 occupants, and one by one, proceed to bait, taunt and terrorize them. Martin Sheen, one of Hollywood's screen icons, plays one of the knife-wielding hoodlums, alongside Tony Musante. Among the melting pot of passengers are a bitterly anti-white black man and his peace-loving wife; a quarrelsome middleaged Jewish couple; a young family with a sleeping child; two soldiers; an introverted homosexual and many more across the social and ethnic spectrum. Throughout the tense ride, not one of the passengers rises to help his beleaguered fellow riders; each individual wants only to be left alone. As the hooligans turn their menace towards the child, will the passengers finally stand up to the thugs?
Also stars Victor Arnold, Robert Bannard, Beau Bridges, Ruby Dee, and Donna Mills. Directed by Larry Peerce (Goodbye Columbus, Two-Minute Warning).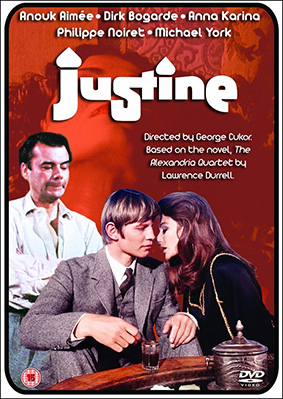 Justine (1969)
Arriving in Egypt, Darley, a young Irish schoolmaster finds himself in the beautiful city of Alexandria, with massive houses, masked balls, extreme opulence, incredible poverty and adolescent prostitution. The society into which Darley naively enters is dominated by Justine (Anouk Aimée), an enchantingly beautiful Jew. Among Justine's numerous friends and lovers are Pursewarden (Dirk Bogarde), a British official obsessed with his blind sister, Liza; Narouz, Justine's fanatic brother-in-law; and Toto, a homosexual. So begins a chain of interlocking relationships at the heart of which lies a treacherous conspiracy.
Directed by George Cukor (The Philadelphia Story, A Star is Born), the film also stars Michael York.
"A vastly entertaining romance set in an East that is as mysterious and lovely as any Hollywood has ever depicted" – New York Times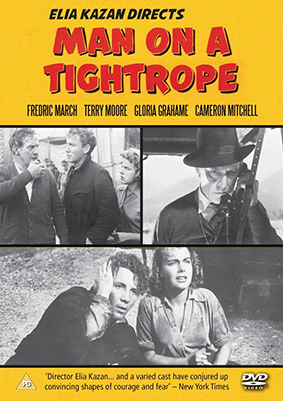 Man on a Tightrope (1953)
Karel Cernik (Fredric March) is the leader of a Czechoslovakian circus troupe. When the country falls under Communist rule, the proud and independent Cernik finds that he is no longer free to operate his circus as he sees fit. Many of his performers are conscripted into military service, and his equipment and possessions are declared government property. Aside from the politics, he has his daughter's romance with the handsome but unreliable lion tamer to deal with. Finally, when Cernik's remaining performers are ordered to insert pro-Communist messages into their acts, he decides that he can take no more. He hatches a plan. But is there a Communist spy in the circus?
A triumphant drama of a circus, escape and suspense from the writer of The Best Years of Our Lives and the director of A Streetcar Named Desire.
"Not only an arresting melodrama but a vivid commentary on a restricted way of life in our parlous times" – New York Times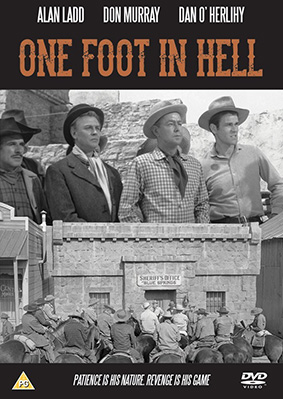 One Foot in Hell (1960)
After his home is burned to the ground by Yankees at the end of the Civil War, impoverished Mitch and his very pregnant wife take to the road in their wagon. His wife begins to feel unwell and Mitch hurriedly drives to the nearest frontier town for medical treatment. Met with indifference and lack of compassion he is unable to pay for the medicine prescribed and his wife dies. Consumed with guilt, the townspeople offer Ladd the job of deputy sheriff and as the years pass, he finds himself a respected member of the peaceful community. On the surface he is a model citizen, but he festers with the memory of his tragic loss, and he hatches a plan for revenge, to bring the town to its knees…
Directed by James B. Clark (Flipper, the 1966 Batman) and starring Alan Ladd, Don Murray and Dan O' Herlihy. This was Alan Ladd's final western.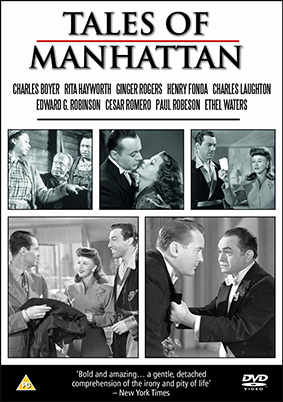 Tales of Manhattan (1946)
In these five sumptuous vignettes set for the most part in New York, the black formal coat is the only linking device. We first come across the coat in short noir about a matinee idol (Charles Boyer) embroiled in a love triangle with a callous woman (Rita Hayworth) and her sadistic husband. The second is a comical tale starring Ginger Rogers, Cesar Romero and Henry Fonda about a love cheat and his best friend. The third is a tearjerker with Charles Laughton as an amateur musician yearning to play in an orchestra. Edward G. Robinson stars in the fourth as a down-and-out lawyer who reluctantly attends his college reunion. Paul Robeson stars in the final fable, which concludes the coat's journey.
"Bold and amazing… a gentle, detached comprehension of the irony and pity of life" – New York Times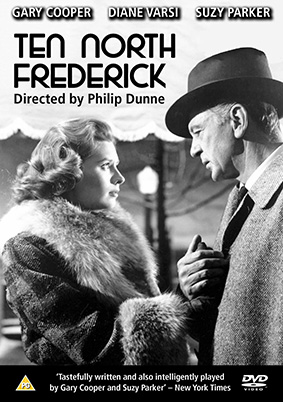 Ten North Frederick (1958)
Told in flashback, this penetrating film is a brilliant portrait of the personal and political hypocrisy of 1950s America.
Joe Chapin (Gary Cooper) appeared to have it all. A successful lawyer with a beautiful wife, two over-achieving children, and aspirations to be president, he was living the American Dream. But as his daughter looks back on his life, a different man emerges: one in conflict with his ambitious and dissatisfied wife and terrified that the misdeeds of his children will dash his political dreams. Ann unravels the truth and learns that during these years of apparent political and personal failure, there was in fact one brief and unsuspected period of happiness and love in her father's life.
"Tastefully written and also intelligently played by Gary Cooper and Suzy Parker" – New York Times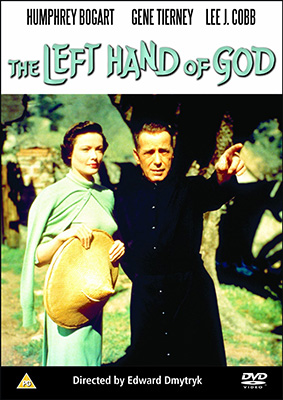 The Left Hand of God (1955)
Humphrey Bogart stars as an American who gets caught up with a warlord and missionaries in China in the late 1940s.
Humphrey Bogart stars as James Carmody, an American fighter pilot turned adventurer in 1947 China. To escape the wrath of a savage warlord (Lee J. Cobb), he masquerades as a man of God. While hiding out in a remote Catholic mission, Carmody finds he is comfortable posing as a priest and restores some order to the feuding villages in the area. However things change when he falls in love with a beautiful nurse, Anne (Gene Tierney) who, though ashamed of her feelings, is drawn to him. When the warlord catches up with him, Bogart must take the most desperate gamble of his life.
Directed by Edward Dmytryk (Farewell My Lovely, The Caine Mutiny).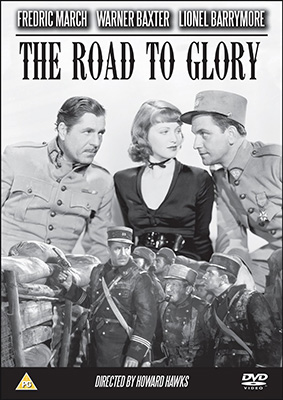 The Road to Glory (1936)
Legendary director Howard Hawks's moody melodrama is a story of trench life during World War I focusing on the lives of a French regiment.
As life is being wasted all around him, Captain La Roche (Warner Baxter) becomes more and more sombre. He gives each fresh wave of replacements the same hollow speech about the proud traditions of the regiment, then sends them out to be slaughtered by the Germans. He lives almost exclusively on a diet of cognac and aspirin. His love rival for the affections of a pretty nurse is the idealistic and carefree junior officer (Fredric March). Into the regiment comes Private Moran, a grizzled army veteran, who also happens to be La Roche's father.
"Finely-tuned studies of comradeship under stress… some superb battle footage" – Time Out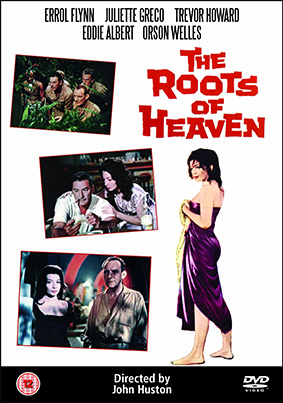 The Roots of Heaven (1958)
Set in Africa, Trevor Howard stars as Morel, a crusading environmentalist who sets out on a one-man mission to preserve the elephants from extinction as a lasting symbol of freedom for all humanity. As Morel's crusade gains momentum he is helped by Minna (Juliette Gréco), a nightclub hostess, and Forsythe (Errol Flynn), a disgraced British military officer hoping to redeem himself. Adapted from Romain Gary's bestselling and critically acclaimed novel of the same name, this proved to be Errol Flynn's final film – the screen icon died less than a year later. The film itself was shot on location in French Equatorial Africa, a grueling experience for its stars and crew.
"Under John Huston's fine direction, the action moves along in splendid style" – New York Times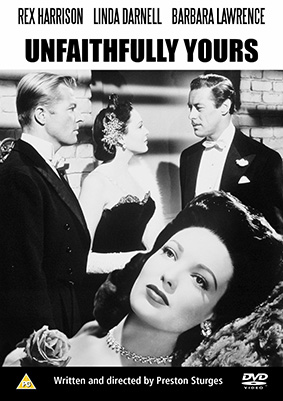 Unfaithfully Yours (1948)
In this pitch-black screwball comedy from legendary director Preston Sturges, Rex Harrison stars as Sir Alfred De Carter, a world-famous symphony conductor obsessed with the notion that his much younger, glamorous wife (Linda Darnell) is cheating on him. During a concert, the jealous De Carter imagines elaborate, if ridiculous, acts of revenge, set to three separate orchestral works. But when he attempts to put his murderous fantasies into action, nothing works out quite as planned.
A brilliantly performed mixture of razorsharp dialogue and uproarious slapstick, Unfaithfully Yours is a true classic from a grand master of screen comedy. Director Quentin Tarantino placed the film at number 8 in his top movies of all time.
"Every bit of this picture is Sturges down to the ground—the notion, the writing, the direction" – New York Times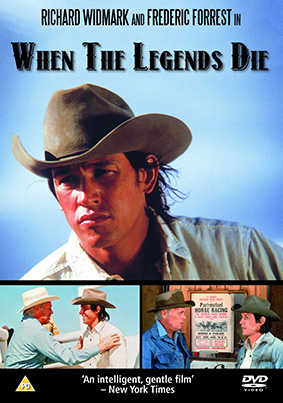 When the Legends Die (1972)
Thomas Black Bull's parents reject life in a modern reservation and take to ancient paths in the woods, teaching their young son the stories and customs of his ancestors. But Tom's life changes forever when he loses his father in a tragic accident and his mother dies shortly afterward. When Tom is discovered alone in the forest with only a bear cub as a companion, he is taken into the world of the white man. Hard-drinking Red Dillon (Richard Widmark) spots Tom's horse-handling skills and becomes his mentor, turning him into a bronco-riding star at the rodeo. But he exploits their relationship over the years by stealing Tom's winnings. Fed up, Tom sets out on his own…
Powerful and timeless, When the Legends Die, adapted from the bestselling classic by Hal Borland, is a captivating story of one man learning to live in harmony with both civilization and wilderness.
"An intelligent, gentle film" – New York Times