Arrow Films has announced April/May home video release Kore-eda Hirokazu's critically acclaimed tender and playful family drama Like Father, Like Son [Soshite chichi ni naru].
Would you choose your natural son, or the son you believed was yours after spending 6 years together? Kore-eda Hirokazu, the globally acclaimed director of After Life, Nobody Knows, Still Walking and I Wish, returns to the big screen with another family – a family thrown into torment after a phone call from the hospital where the son was born...
Ryota has earned everything he has by his hard work, and believes nothing can stop him from pursuing his perfect life as a winner. Then one day, he and his wife, Midori, get an unexpected phone call from the hospital. Their 6-year-old son, Keita, is not 'their' son – the hospital gave them the wrong baby.
Ryota is forced to make a life-changing decision, to choose between 'nature' and 'nurture'. Seeing Midori's devotion to Keita even after learning his origin, and communicating with the rough yet caring family that has raised his natural son for the last six years, Ryota also starts to question himself: has he really been a 'father' all these years.
The moving story of a man who finally faces himself when he encounters an unexpected wall for the first time in his life, Like Father, Like Son was the winner of the Jury Prize at The Cannes Film Festival 2013 and played in competition for the Best Film award at 2013's London Film Festival.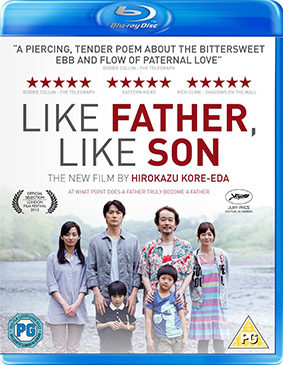 Like Father, Like Son will be released on Digital 28th April and on DVD and Blu-ray on 5th May 2014 by Arrow Films at the RRP of £19.99 each for the DVD and Blu-ray. The iTunes price is £9.99 for the SD version and £13.99 for the HD, but you can get the disc version for about the same if you shop around.
No extra features have been confirmed for the DVD or Blu-ray editions. Could this be a sign of the disc release copying the digital version?