Yeah, we know, what's news of the home entertainment release of a big-budget Hollywood movie doing here on Outsider? Well the truth is we actually thought this one was pretty funny and takes some neat digs at some of the very things that irk us. Whilst selling you Lego for 100 minutes, of course...
The original 3D computer-animated story follows Emmet, an ordinary, rules-following, perfectly average LEGO minifigure who is mistakenly identified as The Special, the most extraordinary person and the key to saving the world.  He is drafted into a fellowship of strangers on an epic quest to stop an evil tyrant, a journey for which Emmet is hopelessly and hilariously underprepared.
The Lego Movie stars Chris Pratt (Her) as the voice of Emmet, an ordinary Lego minifigure, mistakenly thought to be the extraordinary MasterBuilder, with Will Ferrell (Anchorman) as the voice of President Business, aka Lord Business, an uptight CEO who has a hard time balancing world domination with micro-managing his own life.
Voicing the members of Emmet's rebel crew on this heroic mission are Morgan Freeman (Oblivion) as the ancient mystic Vitruvius; Elizabeth Banks (The Hunger Games) as tough-as-nails Wyldstyle, who mistakes Emmet for the savior of the world and guides him on his quest; Will Arnett (The Millers) as the mysterious Batman, a Lego minifigure with whom Wyldstyle shares a history; Nick Offerman (Parks and Recreation) as the craggy, swaggering pirate Metal Beard, obsessed with revenge on Lord Business; Alison Brie (Mad Men) as the sweet and loveable Unikitty and Charlie Day (Horrible Bosses) as Benny, the 1980-something Spaceman.
Directed by Phil Lord and Christopher Miller (Cloudy with a Chance of Meatballs, 21 Jump Street), The Lego Movie was developed from a story by Dan Hageman, Kevin Hageman, Phil Lord and Christopher Miller.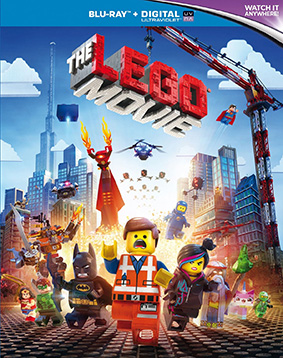 The Lego Movie arrives on UK digital download on 7th July 2014, and on Blu-ray 3D, regulkar Blu-ray and DVD on 21st July 2014 from Warner Brothers. The DVD will retail at £19.99, the Blu-ray at £24.99 and the Blu-ray 3D edition at £29.99. Hell, that's expensive. The digital download version will likely be cheaper, but there's no 3D version and you won't get any of the below detailed extras.
Mind you, you'll need to get the Blu-ray version if you're really into extra features, as the DVD will only have:
Everything is Awesome Sing-Along

Fan-Made Films: Top Secret Submissions
The Blu-ray, on the other hand, will have this lot:
Feature commentary

Batman: A True Artist

Michelangelo and Lincoln: History Cops

Enter the Ninjago

Bringing Lego to Life

Everything is Awesome Sing-Along

See it! Build it!

Stories from the Story Team

Fan-Made Films: Top Secret Submissions

Outtakes

Additional Promotional Content

Alleyway Test

Deleted Scenes