Four years after they ate their way round the North of England in The Trip, The Trip to Italy reunites Steve Coogan (Philomena, Alpha Papa, I'm Alan Partridge) and Rob Brydon (Gavin & Stacey, Would I Lie To You?) for more delectable food, sharp-elbowed rivalry and celebrity impersonations.
Rob, tired from the responsibilities of being the father of a young child, is looking for some adventure, while Steve has been living a life of abstinence and hard work in Los Angeles but, now on a hiatus from his job, has the time to come back to Europe and wants to see his children. They talk about things like life, love, work and exile. They discuss Byron and Shelley, Romantic poets whose lives were defined by their time in Italy. We will see the journey they go on, the hotels they stay in, the restaurants they eat in, the kitchens and chefs that make the food and then the bill at the end.
A Revolution Films, Baby Cow Films and Small Man production, The Trip To Italy is directed by the award-winning Michael Winterbottom (The Trip, Tristram Shandy: A Cock and Bull Story, The Look of Love, 24 Hour Party People).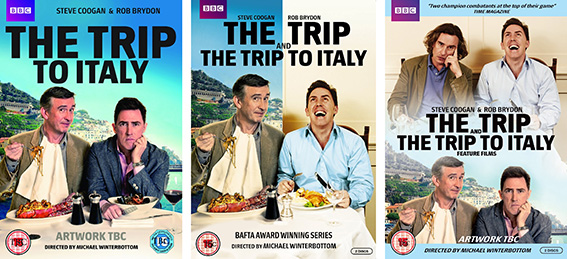 The Trip To Italy will be served up on BBC DVD on 12th May at the RRP of £20.42. Available to purchase on the same date and packaged together for the first time is The Trip and The Trip To Italy on DVD at the RRP of £25.52, and a box set featuring two never-before-available feature length film versions of The Trip and The Trip to Italy for £23.48.
The only listed extra is deleted scenes.
Here's a taster when the pair discuss The Dark Knight Rises: