Network Distributing have announced the UK release of four more DVD titles as part of their ongoing project, 'The British Film' collection: Noose for a Lady, Nothing Barred, Josephine and Men and The Ealing Studios Rarities Collection: Volume 13.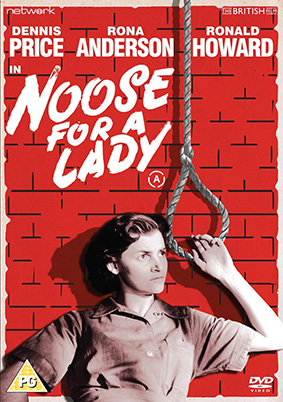 Noose for a Lady (1953) – 5th May 2014 – £9.99.
Simon Gale returns from Uganda to find his cousin, Margaret, has been convicted of poisoning her husband, and her execution is only seven days away. Refusing to believe in her guilt, Margaret's stepdaughter Jill sets out to find the real killer, questioning everyone remotely connected with the dead man. As far as Simon is concerned, everyone is a suspect, and when the man who had promised him vital information is found poisoned, he believes he has solved the mystery.
A taut, complex whodunit with a brilliantly nerve-racking climax, Noose for a Lady marked the directorial debut of German-born writer, producer and director Wolf Rilla (Village of the Damned), and stars Dennis Price, Rona Anderson, Ronald Howard and Pamela Alan. This rare and compelling feature was released in 1953 and is presented here in a brand-new transfer from the original film elements.
Special features will include:
Original Theatrical Trailer

Image Gallery

Promotional Materials PDF

Instant Play Facility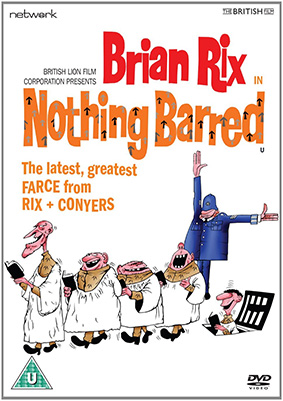 Nothing Barred (1961) – 5th May 2014 – £9.99
Penniless Lord Whitebait's plan to save his sinking fortunes is to open stately Whitebait Manor to the public. But the public ignores his gesture, and his fortunes fade even further, with a stream of debts threatening to run into a deluge when his daughter's fiancé demands a plush and costly wedding. Where is the cash to come from? Whitebait and his servant Spankforth's answer is a scam involving the theft of a valuable painting from the Manor. How could such a cunningly original ruse fail?
Master farceur Brian Rix (And the Same to You) joins fellow Whitehall Theatre stalwart Leo Franklyn and a host of famed character comedians for this entertaining, quintessentially English romp. Originally released in 1961, Nothing Barred (aka The Night We Sprang a Leak) is presented here in a brand-new transfer from the original film elements, in its as-exhibited theatrical aspect ratio.
The only listed extra is Instant Play Fascility, whatever that is.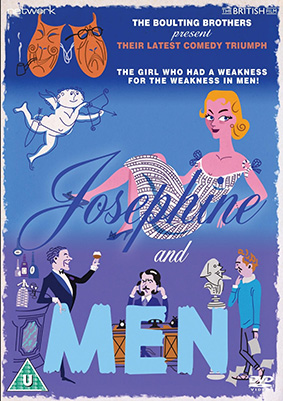 Josephine and Men (1955) – 12th May 2014 – £9.99
Josephine Luton is about to be married to her wealthy fiancé when she falls for his friend, struggling playwright David. The trouble is that Josephine's ever-loving and over-sympathetic nature leads her to switch from needful men to even more needful men but for just how long is David like to remain the underdog?
Glynis Johns (Mary Poppins) heads an impeccable cast that in this sparkling comedy feature of 1955. Charting the romantic complications of a kind-hearted young woman who simply cannot resist an underdog, Josephine and Men was adapted by BAFTA-Award winning screenwriter and author Nigel Balchin from his own story, and presented here in a brand-new transfer from the original film elements in its as-exhibited theatrical aspect ratio.
As for that supporting cast, try this lot for size: Jack Buchanan, Donald Sinden, Peter Finch, William Hartnell, Heather Thatcher, Gerald Sim, Sam Kydd, Victor Maddern, Thorley Walters, Laurence Naismith and John Le Mesurier. Wow.
Special features will include: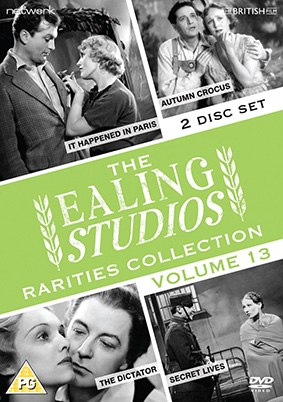 The Ealing Studios Rarities Collection: Volume 13 – 19th May 2014 – £14.99
This double disc set features four films from the vaults of Ealing Studios and Associated Talking Pictures, all presented as new transfers in the original aspect ratios.
It Happened in Paris (1935)
Director: Robert Wyler and Carol Reed
Starring: John Loder and Nancy Burne
In the City of Light, millionaire's son and budding artist Paul falls in love with the beautiful Jacqueline. Believing she will find him more interesting if he can convince her he is poor, Paul finds himself in the midst of a romantic and rather amusing tangle.
Autumn Crocus (1934)
Director: Basil Dean
Starring: Ivor Novello and Fay Compton
Jenny Grey, an attractive schoolteacher in her mid-thirties, has never had a meaningful romance – until she falls in love with Andreas Steiner, the cheerful, handsome owner of the guesthouse in which she is staying during her holiday in the Tyrol. Andreas, however, is a happily married man with a small daughter.
The Dictator (1935)
Director: Victor Saville
Loosely based on real events in eighteenth-century Denmark, The Dictator depicts the tempestuous marriage of King Christian VII and his English consort, Caroline Matilda. Beginning on the night of their wedding, the film then traces the devastating consequences of the Queen's affair with Doctor Johann Friedrich Struensee, the royal physician who earned the trust of the ailing King while pursuing far-reaching plans for liberal reform. The story was later retold in Oscar nominated 2012 film A Royal Affair.
Secret Lives (1937)
Director: Edmond Greville 
Edmond Greville's masterly espionage drama – believed lost for decades – tells the story of Lena Schmidt, a young German-born Frenchwoman who, following the outbreak of war in 1914, is offered freedom from an internment camp if she agrees to become an agent for the French Secret Service. Lena is forced to pay a heavy price for her bid for freedom.
No special features have been listed.