Imagine a reality show where the contestants – a succession of unpleasant characters – are eliminated not by standard ejection but by hanging, drowning, strangling, beheading and all manner of murderous methods. Welcome to Camp Dread.
A group of misguided young adults – amongst them killers, blackmailers, sex offenders – have been sent to the camp as part of a new reality show. This is their last chance to avoid prison or rehab and if they avoid elimination they could win $1 million along the way.
Manipulating the contestants is down-at-heel horror director Julian Barrett, played by Oscar nominee Eric Roberts, using the same set as his old horror franchise Summer Camp. And as the competition progresses, it becomes more than just a battle to win. It's a desperate, gut-wrenching fight for survival.
With a supporting cast that includes horror legend Danielle Harris (Rob Zombie's Halloween remake, the Hatchet films) and Sleepaway Camp cult star Felissa Rose, Camp Dread is an old school horror with a some shiny new heart-pounding, stomach-churning kills. At least that's what we are told, though some have suggested it doesn't quite hit the potential of of its set-up. We shall see.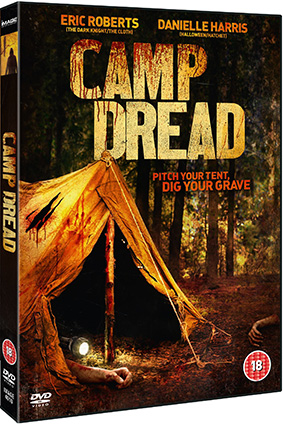 Camp Dread will be released on UK DVD on 23rd June 2013 by Image Entertainment at the RRP of £12.99.
What? No extras? Oh come on...