Tricia's (Courtney Bell) husband Daniel has been missing for seven years and with the help of her sister Callie (Katie Parker), she finally declares him legally dead 'in absentia'. As Tricia tries to move on with her life she becomes haunted by terrifying visions, while Callie is strangely drawn to an ominous tunnel near the house, with links to other unexplained disappearances. Does the key to Daniel's fate lie in the cold darkness of the tunnel and could the truth be something far worse than death?
Championed as one of the most frightening films of recent years, Absentia is the critically acclaimed, multi award-winning breakthrough film from Mike Flanagan, director of this Summer's biggest horror release Oculus, it was described by FearNET as "a melancholy tale of loss that's only peripherally a horror flick, but a good one all the same" and DVD Verdict as "an excellent example of what can be achieved with low-budget horror filmmaking."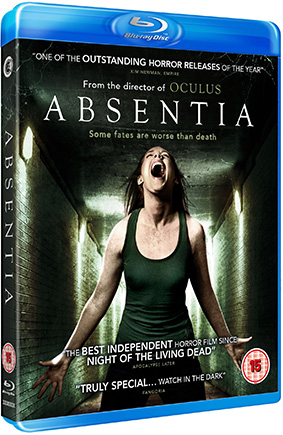 Absentia will be re-released on UK DVD and make its UK Blu-ray debut on 7th July 2014 from Second Sight Films at the RRP of £15.99 for the DVD and £19.99 for the Blu-ray.
The brand new special features will include:
Audio commentary with director / producer Mike Flanagan and producers Morgan Peter Brown, Joe Wicker and Justin Gordon.

Audio commentary with director Mike Flanagan and cast members Katie Parker, Courtney Bell, Dave Levine and Doug Jones.

Absentia: A Retrospective documentary

Camera Test Teaser

Deleted Scenes