Eureka! Entertainment have announced the release of Harold and Maude, directed by Hal Ashby (The Last Detail, Shampoo, Bound for Glory, Coming Home and Being There) and featuring a legendary soundtrack by Cat Stevens. Listed among top 50 American comedies ever made by the American Film Institute, and 100 greatest screenplays by the Writers Guild of America, the first-ever Blu-ray special edition of this classic American comedy will be released as part of Eureka's award-winning The Masters of Cinema Series on 23rd June 2014.
A glorious mixture of the riotously morbid and joyously life-affirming, Hal Ashby's Harold and Maude was an instant counter-culture favourite on its release in 1971, and whose popularity has spread in the decades since to become simply one of the most beloved cult comedies ever made.
Following the burgeoning relationship between the gloomy, 20-year-old, suicide-staging Harold (Bud Cort), suffocated by his wealthy homestead, and the sprightly octogenarian Maude (Ruth Gordon), whose bohemian wiles and open-arms approach to living enable his first gentle steps towards embracing existence.
With its brilliant script by Colin Higgins, a magnificent, standard-setting soundtrack by Cat Stevens, wonderful performances, and Hal Ashby's stunning directorial control, Harold and Maude combines a jet-black comic edge with romance, philosophy, satire and beauty to form a masterfully funny and moving whole.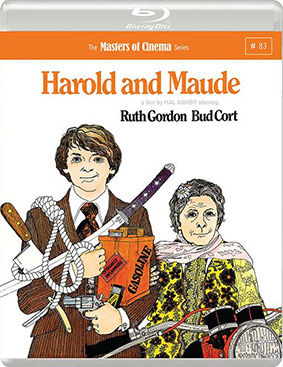 Harold and Maude will make its UK Blu-ray debut on 23rd June 2014 from Eureka! Entertainment as part of the Masters of Cinema series at the RRP of £17.99 (you see, Warner? That's what you should be charging).
Featuring a newly restored 1080p high-definition master, and boasting extra features that will be confirmed nearer the release date, the disc will be accompanied by a 36-page booklet with a new essay, vintage stills and more.