Kaleidoscope Home Entertainment have announced the UK release of The Woody Allen Library boxset, a catalogue of Woody Allen films that are also releasing individually on DVD on 7th July 2014; the films will be available digitally from 23rd June 2014.
It's an intriguing collection, one whose make-up is likely governed more by rights availability than any overriding theme. Kaleidescope's PR are pushing them as classics, but despite some strong titles, I think that's pushing it a bit. So what's included?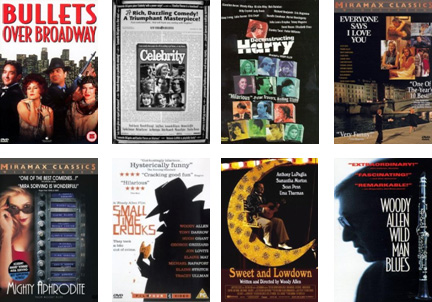 Bullets Over Broadway (1994)
Set in 1920s New York, Bullets Over Broadway is directed by Allen and tells the story of a struggling playwright forced to cast a mobster's talentless girlfriend in his latest drama in order to get it produced. The film stars John Cusack, Diane Wiest, Mary Louise Parker and Chazz Palminteri.
Mighty Aphrodite (1995)
The romantic comedy Mighty Aphrodite stars Allen, Helena Bonham Carter, Pamela Blair and Mira Sorvino, who received the 1995 Academy Award for Best Supporting Actress for her performance. When he discovers his adopted son is a genius, a New York sportswriter (Allen) seeks out the boy's birth mother: a prostitute.
Everyone Says I Love You (1996)
Featuring singing by actors who are not usually known for warbling tunes, Everyone Says I Love You is about a New York girl who sets her father up with a beautiful woman in a shaky marriage, while her half-sister gets engaged. Starring Allen (who also wrote and directed), Goldie Hawn, Julia Roberts, Drew Barrymore and Edward Norton.
Deconstructing Harry (1997)
As well as writing and directing Deconstructing Harry, Allen stars as Harry Block. Suffering from writer's (Harry) block and eagerly awaiting his writing award, Block starts to recall events from his past and scenes from his best-selling books as characters, real and fictional, come back to haunt him. Also stars Judy Davis, Julia Louis-Dreyfus, Richard Benjamin and Tobey Maguire.
Wild Man Blues (1997)
Wild Man Blues is a 1997 documentary film directed by Barbara Kopple, about the musical avocation of actor/director/comic Woody Allen. The film takes its name from a jazz composition sometimes attributed to Jelly Roll Morton and sometimes to Louis Armstrong and recorded by both (among others). Allen's love of early 20th century New Orleans music is depicted through his 1996 tour of Europe with his New Orleans Jazz Band. Allen has played clarinet with this band for over 25 years.
Celebrity (1998)
With an all-star cast featuring Kenneth Branagh, Leonardo DiCaprio, Judy Davis and Charlize Theron, Celebrity (written and directed by Allen) sees the fortunes of a husband and wife differ drastically after they divorce.
Sweet and Lowdown (1999)
In the 1930s, fictional jazz guitarist Emmet Ray (Sean Penn) idolises Django Reinhardt, faces gangsters and falls in love with a mute (Samantha Morton). Both Penn and Morton received Oscar nominations for their roles in the film, which also stars Uma Thurman, Woody Allen and Anthony LaPaglia.
Small Time Crooks (2000)
A loser of a crook (Woody Allen) and his wife (Tracey Ullman) strike it rich when a botched bank job's cover business becomes a spectacular success. Small Time Crooks also stars Hugh Grant and Elaine May.

The Woody Allen Library box set will be priced at £49.99. The RRP of the individual discs has yet to be confirmed.
Also unconfirmed at this stage are the extra features, should there be any of course.