Bleak Night [Pasookkoon] is the story of a father (Jo Sung-ha) who is grieving over the death of his son Ji-tae (Lee Je-hoon) and trying to make sense of what happened. After going through Ji-tae's things and stumbling on a few pictures of him and his friends, his father attempts to track them down to inquire just what could possibly lead to his son committing suicide. His journey leads him to Hye-jun (Park Jung-min) and Dong-yoon (Seo Jun-young) who were once Ji-tae's best friends, but Hye-jun transferred schools a few weeks before Ji-tae's death and Dong-yoon dropped out of school and skipped out on the funeral. As one troubled man chews over the fact that those he talks to are giving him answers to everything other than the questions he finds himself repeatedly asking, the delicate and yet intricate boundaries of companionship are pushed to their limits.
The debut film of Yoon Sung-hyun, Bleak Night is a student feature from the Korean Academy of Film Arts (KAFA), which produces four feature-length projects a year and has been training some of the Korea's best talent since the '80s, including Bong Joon-ho (Memories of Murder, The Host, Snowpiercer), Im Sang-soo (The President's Last Bang, The Housemaid) and Kim Tae-gyun (WaSanGo, Volcano High).
Bleak Night was described by BeyondHollywood.com as "Dark and gripping, the film makes for a hard-hitting, horribly believable picture of tortured and torturing youth," while Sound on Sight said of writer-director Yoon Sung-hyun, "As both a writer and a director of actors, Yoon shows a fascinating understanding for what it means to be this age." The film was also the winner of the FIPRESCI Award at the Hong Kong International Film Festival, the New Currents Award at the Busan International Film Festival, and Best Screenplay at the Asia Pacific Screen Awards.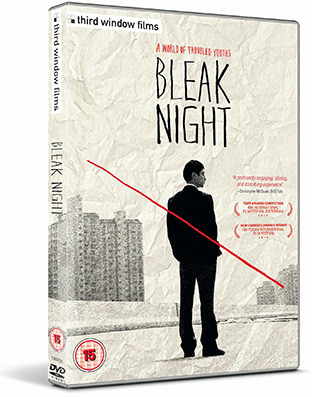 Bleak Night will be released on UK DVD on 26th May 2014 by Third Window Films at the RRP of £14.99.
Extra features will include: