Eureka! Entertainment have announced the release of Rapture, a dark fairy tale set against the rugged beauty of the Brittany seacoast.
An international co-production made on location along the Brittany coastline, Rapture is one of the most remarkable coming-of-age films ever made, and with its vivid atmosphere and emotional acuity is one of the most striking and neglected studio projects of the 1960s.
Three years after she shot to prominence in the classic Sundays and Cybele, Patricia Gozzi gives an extraordinary performance as the young girl whose isolated existence under her overbearing father, Melvyn Douglas (Ninotchka), is turned on its head with the sudden arrival of a seductive fugitive from the law, Dean Stockwell (Quantum Leap, Blue Velvet).
Directed by John Guillermin (Towering Inferno, Death on the Nile, King Kong) and with a supporting cast including Gunnel Lindblom, Sylvia Kay (Wake in Fright, BBC TV's Just Good Friends), and Peter Sallis (Last of the Summer Wine), stunningly expressive black & white Cinemascope visuals and an exquisite score by Georges Delerue, Rapture is an astonishing rediscovery, presented for the first time on home video in the UK in a new high-definition restoration.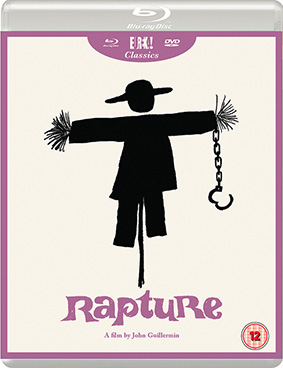 Described by Twitch as "a complex gem of a film" and New York Daily News as "Movie-making at its best…spellbinding. Something very fine, the likes of which are rare in this era," Rapture will be released on UK dual format (Blu-ray and DVD) on 28th July 2014 by Eureka! Entertainment at the RRP of £17.99.
Extra features will include:
New exclusive commentary with film historians Julie Kirgo and Nick Redmon

Booklet featuring an essay by critic Mike Sutton; vintage stills; and more.
Below is a clip from the film: