With barely a pause for breath after their recent Blu-ray announcement, Network Distributing have confirmed details of the next four titles to be released on UK DVD as part of their ongoing "The British Film" collection. The titles are: Rotten to the Core, Operation Bullshine, Piccadilly Incident and a double-bill of Banana Ridge and the wonderfully titled Aren't Men Beasts!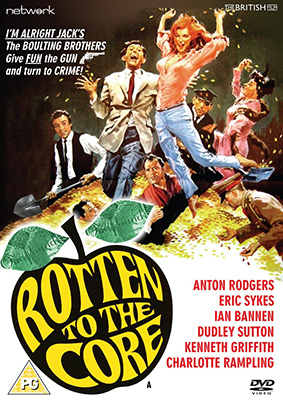 ROTTEN TO THE CORE (John Boulting, 1965) | 19th May 2014 | £9.99
Lenny, Jelly and Scapa are the three loyal henchmen of "The Duke". After 18 months in jail they are eager to rejoin their leader, and even more eager to receive a share of the stash that sent them there. Having been told that the Duke has died and all the money was spent on hospital bills, they eventually meet up with their boss again. However, they find that his methods have become far more sophisticated, and before long they're involved in an elaborate plan to carry out a daringly audacious heist.
A riotously funny crime caper in the classic tradition of Two-Way Stretch and The Lavender Hill Mob, Rotten to the Core boasts a top-notch cast with early roles for Anton Rodgers (Dirty Rotten Scoundrels, TV's Fresh Fields) and Charlotte Rampling (The Duchess, Swimming Pool) and a supporting cast that includes Eric Sykes (The Others, Theatre of Blood), Ian Bannen (Gandhi, The Offence), Thorley Walters (Dracula: Prince of Darkness), Peter Vaughan (Brazil, Straw Dogs), Dudley Sutton (The Devils), Kenneth Griffith (The Lion in Winter) and Victor Maddern (Exodus). Produced, directed and co-scripted by the legendary Boulting brothers (Brighton Rock), Rotten To The Core earned a BAFTA nomination in 1966 for art director Alex Vetchinsky.
Rotten to the Core is presented here in a brand-new transfer from the original film elements, in its as-exhibited theatrical aspect ratio.
Special features will include: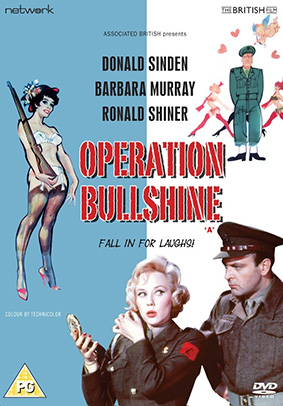 OPERATION BULLSHINE (Gilbert Gunn, 1959) | 19th May 2014 | £9.99
Presented here in a brand-new digital transfer, Operation Bullshine charts the misadventures of a group of Auxiliary Territorial Service girls stationed at an anti-aircraft post on a remote stretch of the English coast – along with the handsome lieutenant in charge of the battery, and his wife, a fellow-ATS girl who's none too happy about her husband's latest posting, particularly when regulations force them to conceal the fact that they are married.
A box-office hit in 1959 for Girls at Sea director Gilbert Gunn and boasting a top-flight cast that includes Donald Sinden (The Cruel Sea), Dora Bryan (A Taste of Honey) and Barbara Murray (Passport to Pimlico). Operation Bullshine also features a notable role for 1956 Olympic gold-medallist Judy Grinham.
Special features will include:
Original theatrical trailer

Image gallery

Promotional material PDFs

Instant play facility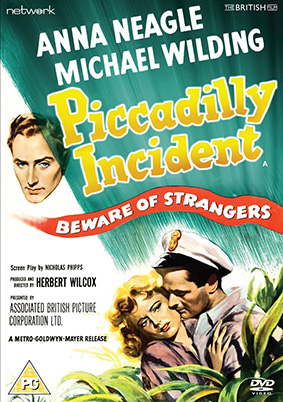 PICCADILLY INCIDENT (Herbert Wilcox, 1946) | 26th May 2014 | £9.99
Alan Pearson, a Naval Intelligence Captain, and WREN Diana Fraser meet by chance in Piccadilly during an air raid. They fall in love, and after a brief courtship, marry just hours before Diana is due to be sent to Singapore. Theirs is one of many hasty wartime romances, but their love story is cut short when Diana is reported missing, believed drowned, after the fall of Singapore. In time, Alan finds love again and remarries, but Fate is to bring about an impossible situation, which can only be resolved by considerable self-sacrifice.
A massive box-office hit, this romantic drama set in World War Two and its aftermath is an emotional tour de force that marked the first screen pairing of Anna Neagle and Michael Wilding, who would become one of Britain's best-loved film couples throughout the later 1940s.
Directed by Herbert Wilcox, Neagle's then husband, and featuring inventive dance sequences by renowned choreographer Wendy Toye, Piccadilly Incident is presented here in a brand-new digital transfer, in its as-exhibited theatrical aspect ratio.
Special features will include:
Image gallery

Original pressbook PDF

Instant play facility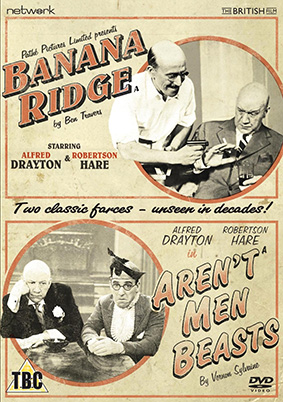 BANANA RIDGE (Walter C. Mycroft, 1942) and AREN'T MEN BEASTS! (Graham Cutts, 1937)
26th May 2014 | £12.99
A screen adaptation of Ben Travers' celebrated and enduring farce, Banana Ridge is a wonderfully mischievous comedy of disputed paternity and caddishness. On the morning of his son's wedding, a mild-mannered dentist is visited by a dark, beautiful girl who disarranges her dress and screams for the police.
Hollywood star June Clyde co-stars in the boisterous comedy caper, Aren't Men Beasts!. Two businessmen have the shock of their lives when a woman appears out of their past bearing a 23-year-old son – and one of them may be the father!
Only one copy of Aren't Men Beasts! is known to exist and its soundtrack is incomplete – for these two mute sections we have included English subtitles.
Special features will include: