Eureka! Entertainment have announced the release of Too Late Blues, the second film by the legendary American director and founder of the independent film movement, John Cassavetes (Shadows, Faces, A Woman Under the Influence, The Killing of a Chinese Bookie, Opening Night, Love Streams) starring the singer of "Beyond the Sea" Bobby Darin.
The supreme master John Cassavetes followed up his earth-shaking 1959 debut Shadows with this, his first directorial effort for a major studio. Positioned somewhere between Cassavetes' ferocious independent productions and the Hollywood fare of the early 1960s, Too Late Blues represents a glimpse at a road not taken neither by the director himself, nor by mainstream American cinema in the era of the studio system's collapse — a parallel-universe of the movies that never came to pass... except in rare instances such as Too Late Blues.
Legendary American singer Bobby Darin (of "Beyond the Sea" fame) plays the leader of a jazz band whose peripatetic performances ultimately lead him to cross paths with a singer (Stella Stevens, later of Jerry Lewis's The Nutty Professor) with whom he falls in love. Drama ensues when Darin's masculinity is thrown into question following a violent brawl, and the film lurches towards its gripping conclusion.
The critic Jonathan Rosenbaum wrote that Cassavetes' film is a portrait of "the self-laceration and other forms of emotional brought about when a footloose jazz musician decides to sell out and go commercial," that it "has moments that are indelible and heartbreaking," and that "if you care a lot about Cassavetes, you should definitely see this."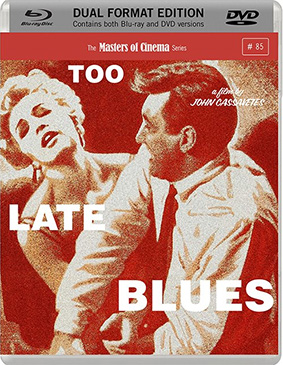 Too Late Blues will be released on UK dual format (Blu-ray and DVD) on 21st July 2014 by Eureka! Entertainment as part of the Masters of Cinema series at the RRP of £17.99.
Featuring a gorgeous 1080p transfer of the film on Blu-ray, and progressive encode on the DVD, extras will include:
Exclusive Video Essay by Film Historian David Cairns

Exclusive Booklet with a new essay and conversation, vintage interview material, rare archival imagery, and more!