Saajan (Irrfan Khan – Life of Pi), a Mumbai office worker nearing retirement, is delivered the wrong lunch by a dabbawala. Young housewife Ila (Nimrat Kaur) had intended it for her emotionally indifferent husband. To Saajan's surprise, the food is a vast improvement on his usual meal. When he finds a note from Ila enclosed with another meal, he decides to write back. So begins award-winning short filmmaker Ritesh Batra's exquisite comedy-drama.
India's hottest indie film of the year, The Lunchbox [Dabba] is a feel-good romance with global appeal. "Sheer unadulterated pleasure often comes from the most unexpected quarters," is how Eye for Film opened their four-star review, while Little White Lies called it, "A Rolls Royce romantic comedy set in Mumbai that rides on a delectable, bittersweet central turn by Irrfan Khan."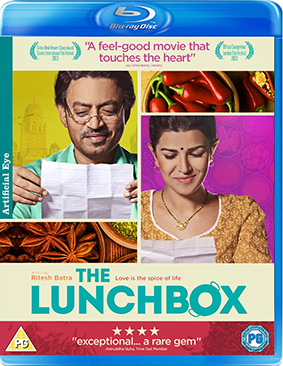 The Lunchbox will be released on UK Blu-ray and DVD on 14th July 2014 by Artificial Eye at the RRP of £19.99 for the Blu-ray and £15.99 for the DVD.
Details of extra features to be included have yet to be confirmed.