Arrow Films' Arrow Academy label has announced the Blu-ray release of Sullivan's Travels for later this month. This release will not only see the debut of Sullivan's Travels on Blu-ray in the UK, but also mark the debut release of any film by Preston Sturges on Blu-ray anywhere in the world.
Director John L. Sullivan (Joel McCrea) is one of Hollywood's hottest talents, with an uncanny gift for getting audiences rolling in the aisles. But he's dissatisfied: he wants to abandon comedy for Serious Statements, and buys the rights to celebrated social-realist novel 'O Brother, Where Art Thou?'.
To make his masterpiece as realistic as possible, Sullivan naturally has to understand how the book's downtrodden characters must have felt, so he takes to the road as a hobo, is taken under the wing of a failed actress (Veronica Lake), and learns several valuable home truths about the importance of not patronising his audience.
Sullivan's Travels itself is widely regarded as one of Sturges' crowning achievements, no small claim considering that he had one of the most phenomenal creative runs in the history of Hollywood between 1940 and 1944. Peter Swaab's booklet essay offers an excellent primer as to why this particular film is so often singled out even at a time when he was churning out masterpiece after masterpiece (Sullivan's Travels was bookended by The Lady Eve and The Palm Beach Story, both also considered 24-carat classics).
Preston Sturges said that Sullivan's Travels "is all original with me, it's not taken from anything, it's all mine". It shows. After ten years as one of Hollywood's best paid and most highly regarded screenwriters he was clearly enjoying his creative control as writer-director. Sullivan's Travels is blatantly idiosyncratic, wildly confident, brilliantly funny. It relates the picaresque adventures of John L. Sullivan, Hollywood director of comedies, who quixotically goes on the road to find out about real life troubles and poverty so he can make a film with a social conscience. But he decides in the end that he'll make another comedy after all, and the film itself is dedicated 'To the memory of those who made us laugh'.
This jam-packed disc will be released as a deluxe Blu-ray featuring original and newly commissioned artwork by Jay Shaw, and a host of special features, including the standout documentary Preston Sturges: The Rise and Fall of an American Dreamer, Kenneth Bowser's acclaimed feature-length documentary. Alongside this, two in-house Arrow documentaries will feature, one offering a thorough appreciation by the critic Kevin Jackson and the second celebrating Sturges' regular repertory company.
The disc will also include a new collector's booklet featuring new writing on the film by screwball comedy expert Peter Swaab, plus archive pieces by Geoff Brown and Preston Sturges, illustrated with original stills.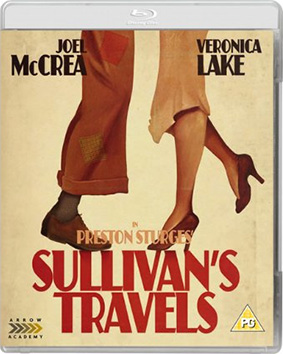 Sullivan's Travels wil be released on UK Blu-ray on 24th May 2014 by Arrow Films as part of the Arrow Academy label at the RRP of £24.99.
Featuring a new high definition digital transfer of the film by Universal Pictures, uncompressed Mono 2.0 PCM audio and optional English SDH subtitles for the deaf and hard of hearing, the disc will have the following extras:
Audio commentary by filmmaker and Python Terry Jones

Preston Sturges: The Rise and Fall of an American Dreamer – Kenneth Bowser's acclaimed feature-length documentary portrait from the American Masters series

Kevin Jackson on Sullivan's Travels: an appreciation by the writer and broadcaster

The Preston Sturges Stock Company: a celebration of Sturges' regular character actors and bit-part players

Safeguarding Military Information: a Sturges-scripted propaganda short released in the same month as Sullivan's Travels

Theatrical Trailer

Reversible sleeve featuring original and newly commissioned artwork by Jay Shaw

Booklet featuring new writing on the film by screwball comedy expert Peter Swaab, plus archive pieces by Geoff Brown and Preston Sturges, illustrated with original stills