First half: For the Olympique de Paris football team, this away match scheduled against Caplongue was merely supposed to be one last chore before the end of the professional season. Yet no one could ever have imagined that an unknown rabies-like infection was going to spread like wildfire, turning this small town's inhabitants into ultra-violent and highly contagious creatures. For Samuel, the former golden boy who is nearing retirement, Idriss, the arrogant wunderkind, Coubert, the team's depressed coach and Solène, the young ambitious journalist, this will turn into the most important confrontation of their lives.
Second half: While the rabid supporters prowl about Caplongue, which is in a state of ruin, another nightmare begins for Sam. Barricaded in the police station with other survivors, he has to face the young Cléo, his grumpy father, and Solène, who hasn't forgotten him this time. Meanwhile, Idriss and Marco, hidden in the stadium and looking for a way to escape, are also settling a few scores along the way.
Does the world really need another zombie movie? Well when the premise is as interesting as the one for the amusingly titled French comedy-horror Goal of the Dead, I'd suggest we do. Directed by Thierry Poiraud and Benjamin Rocher (Atomik Circus – Le retour de James Bataille), it stars Alban Lenoir, Charlie Bruneau and Tiphaine Daviot, and was described by The Hollywood Reporter as "a more intelligently realized venture than many a broad Gallic comedy or action flick, and as such deserves some recognition abroad."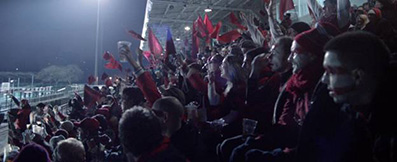 Goal of the Dead will be released on UK DVD on 7th July 2014 by Metrodome Distribution at the RRP of £12.99.
No extra features have been listed. You surprise me. Hell, even we have a trailer.