The documentary feature Looking for Light: Jane Bown, directed by Michael Dodd and Luke Whyte, is a revealing portrait of this most self-effacing photographer, which emerges through conversation, anecdote and candid reflection.
In the almost six decades that Jane Bown worked for The Observer, she became renowned for insightful, highly individualistic portraits of the famous. Some of these portraits are now regarded as classics of the genre – Samuel Beckett, Queen Elizabeth, the Beatles. This feature documentary is an insightful portrait of Jane Bown, her quiet determination to succeed in an almost exclusively male world, and her legendary no-nonsense working method. It includes interviews with Rankin, Nobby Clark, Edna O'Brien and Don McCullin as well as her many iconic photographs of the great and the good of the twentieth and twenty-first centuries.
Luke Dodd, a graduate of the Whitney Museum Independent Study Program in New York and the former Head of the Irish Film Archive, has been working with the Guardian Media Group since 2002 on a variety of projects. Michael Whyte is a film and television director whose work includes documentary and drama. As well as directing films he has written several screenplays, notably Catherine, winner of two international awards. His CV is distinguished for its range and quality. Apart from producing and directing some of the most innovative documentaries on television he has worked with the best writers in their field including Kazuo Ishiguro, Stephen Poliakoff, John Byrne, Lynda La Plante, Shelagh Delaney, Peter Flannery and Deborah Moggach.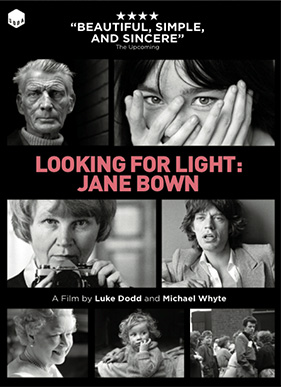 Looking for Light: Jane Bown will be released on UK DVD on 26th May 2014 by SXoda Pictures at the RRP of £17.99.
A limited edition of 1000 units will also be released on May 26. The DVD has beautiful bespoke cover artwork and contains an exclusive signed photograph by Jane Bown herself, and will retail at £29.99.
Special features will include:
Extended interviews with Edna O'Brien, Rankin, and Sean O'Hagan

Booklet with exclusive images and an essay on the making of the film
Check out the trailer below – we've not seen the film yet but it does look terrific: