As part of a slew of new title announcements today, Arrow Films have announced the upcoming Blu-ray and DVD release of one of our favourite films, Seijun Suzuki's 1967 hip crime masterpiece Branded to Kill [Koroshi no rakuin].
Seijun Suzuki's delirious 1967 hit-man film has drawn comparisons with contemporaries Le Samourai and Point Blank and influenced directors such as John Woo, Jim Jarmusch and Quentin Tarantino among others. The story of laconic yakuza Hanada, aka 'No. 3 Killer', the third rated hit-man in Japan who takes an impossible job from the mysterious, death obsessed Misako. Hanada bungles the hit and finds himself the target of his employers and a bullet ridden journey leads him to face the No. 1 Killer.
Shot in cool monochrome with beguiling visuals, Branded to Kill is an effortlessly cool crime film with a jazzy score that caused Suzuki to be fired by the studio's executives but is now rightly recognised as one of his finest achievements.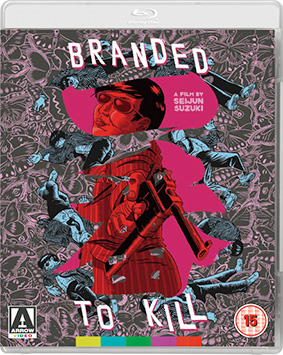 Branded to Kill will hit UK stores as a dual format edition (Blu-ray and DVD) on 28 July 2014 from Arrow Films.
Featuring a new High Definition digital transfer and newly translated English subtitles for both films, the listed extra features so far are:
Interview with director Seijun Suzuki

Interview with star Jo Shishido by critic and author Koshi Ueno

Trap of Lust [Aiyoku no wana] (1973) – A delirious roman porno re-imagining of Branded to Kill from Atsushi Yamatoya, one of Branded to Kill's screenwriters and Suzuki's regular collaborators

Original Trailers for Branded to Kill and Trap of Lust

Reversible sleeve with original and newly commissioned artwork by Ian MacEwan

Booklet by Japanese film expert Jasper Sharp, illustrated with original stills and new artwork by Ian MacEwan
More details when we have them.