Clowns can be terrifying at the best of times – especially when they're Killer Klowns from Outer Space! When Mike and his girlfriend Debbie turn up at the local police station warning that a gang of homicidal alien clowns have arrived in the town of Crescent Grove, the cops are naturally sceptical. Talk of popcorn-firing guns and a spaceship shaped like a circus tent out in the woods hardly helps to convince them.
Before long, however, reports start coming in from anxious locals reporting similar run-ins with the colourfully-dressed, large shoe-wearing assailants. There can no longer be any doubt - the Killer Klowns from Outer Space are here and they're out to turn the population into candy floss!
The sole directorial effort from the Chiodo brothers – the special effects team behind such hits as Critters and Team America: World Police – Killer Klowns from Outer Space is the wacky 1988 horror comedy classic against which all other knowing B-movie efforts should be measured. So, in the words of the film's opening theme song, hop aboard the "nightmare merry-go-round" and brace yourself for a cinematic experience unparalleled in this galaxy!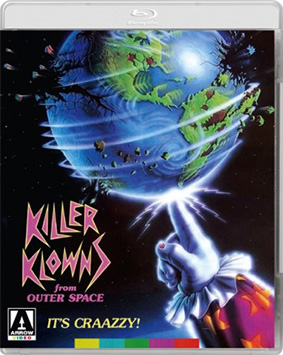 Killer Klowns from Outer Space will be released on UK dual format (Blu-ray and DVD) on 25th August 2014.
Special features will include:
Audio Commentary with the Chiodo Brothers

The Making of Killer Klowns – a 20-minute featurette comprising interviews and behind-the-scenes footage

Komposing Klowns – interview with composer John Massari

Visual Effects with Gene Warren Jr.

Kreating Klowns – with Charles Chiodo and creature fabricator Dwight Roberts

Chiodo Brothers' Earliest Films – a look back on the first Chiodo Brothers' productions

2 Deleted Scenes with Director's Commentary

Killer Bloopers

Klown Auditions

Theatrical Trailer

Reversible sleeve featuring original and newly commissioned artwork to be revealed!

Collector's booklet featuring new writing on the film