Life can be tough when you're a Valley girl. First, there's making sure you're on time for pep squad practice. Then there's having to live under the same roof as your bitchy stepmother who, you suspect, is making it with Chuck from across the road. And then, of course, there's having to keep on the lookout for the occasional marauding zombie hungering after your flesh!
Eighteen year-old Reggie (Catherine Mary Stewart – Weekend at Bernie's, The Last Starfighter) misses out on the event-of-a-lifetime when she ditches watching the comet in favour of copping off with the projectionist at the cinema where she works. But this turns out to be a wise move when, the next day, she discovers that the entire population has been reduced to piles of red dust – leaving only Reggie, her sister Sam (Kelli Maroney – Fast Times at Ridgemont High, Chopping Mall) and a handful of other survivors to fend off the roving gangs of glassy-eyed zombies.
Taking its cue from classic "doomsday" movies such as The Day of the Triffids and The Omega Man (and with a healthy dose of Dawn of the Dead thrown in for good measure), Night of the Comet is an irresistible slice of Reagan-era B-movie fare which features Cyndi Lauper dance-alongs as well as some truly gravity-defying bouffant hairstyles... Well, it was acceptable in the 80s!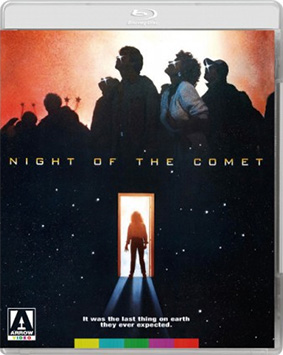 Night of the Comet will be released on UK dual format on 22nd September 2014 by Arrow Films.
A rich collection of extras will include:
Audio Commentary with Writer/Director Thom Eberhardt

Audio Commentary with Stars Kelli Maroney and Catherine Mary Stewart

Audio Commentary with Production Designer John Muto

Valley Girls At The End Of The World – Interviews with Stars Kelli Maroney and Catherine Mary Stewart

The Last Man On Earth? – An Interview with Actor Robert Beltran

Curse of the Comet – An Interview with Special Make-Up Effects Creator David B. Miller

Theatrical Trailer

Reversible sleeve featuring original and newly commissioned artwork to be revealed!

Collector's booklet featuring new writing on the film