It's Vincent Price season over at Arrow Films. First we had their lovely Blu-ray release of Theatre of Blood, then the equally impressive Blu-ray of Pit and the Pendulum (review VERY soon). Now Arrow have confirmed the details for one of their most eagerly anticipated releases of the year, The Complete Dr. Phibes, featuring both The Abominable Dr. Phibes and its sequel Dr. Phibes Rises Again.
Horror legend Vincent Price is Dr. Phibes, former musician, current murderer. Seeking revenge from the medical staff that left his wife for dead, he sets about knocking them off one-by-one in a series of elaborate murders based upon a Ten Plagues of Egypt. Death by bats, by boils, by blood and more await the nurse and surgeons who failed to save the life of the beloved Victoria Regina Phibes!
A camp classic, The Abominable Dr. Phibes sets itself apart from the seventies horror crowd with its knowing humour and art deco sets, and also prefigures the Saw movies with its increasingly fiendish set of murder devices.
Pairing the original film with sequel Dr. Phibes Rises Again, The Complete Dr. Phibes provides viewers with a double diabolical dose of macabre thrills and black comedy.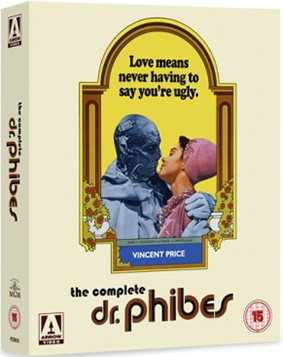 The Complete Dr. Phibes will be released on UK Blu-ray on 9th June 2014 as a Limited Edition box set (3000 copies) by Arrow Films at the RRP of £34.99.
Featuring a high definition Blu-ray (1080p) presentation of The Abominable Dr. Phibes and Dr. Phibes Rises Again, transferred from original film elements by MGM, original uncompressed 1.0 Mono PCM Audio for both films and optional English SDH subtitles for the deaf and hard of hearing for both films, the set will have the following extras:
Audio commentary on The Abominable Dr. Phibes by director Robert Fuest

Audio commentary on The Abominable Dr. Phibes by the creator of Dr. Phibes, William Goldstein

Audio commentary on Dr. Phibes Rises Again by critic and author Tim Lucas

Dr. Phibes and the Gentlemen – The League of Gentlemen fondly recall a pair of British horror classics

Daughter of Phibes – Victoria Price discusses Vincent Price's career

The Doctor Will See You Now – an interview with Vincent Price's biographer, David Del Valle

Original Trailers for both films

100-page collector's booklet featuring new writing on the films by Julian Upton, Martin Jones, Justin Humphreys and Jonny Trunk, the on-set recollections of Caroline Munro, plus interviews with Tim Burton and AIP publicist Milton Moritz, all illustrated with rare and original archive stills