Originally turned down flat by the British Board of Film Censors and initially released exclusively in London in a version heavily cut by its nervous distributor, The Beast [La bête] is Walerian Borowczyk's most notorious film, although it's much wittier and more playful than its subject matter might suggest.
Lucy Broadhurst (Lisbeth Hummel) is due to inherit a substantial fortune, but on condition that she marries the son of her late father's best friend. But Mathurin de l'Espérance (Pierre Benedetti) seems more interested in his horses than in his bride-to-be, and when Lucy finds out about the story of his 18th-century ancestor Romilda (Sirpa Lane) and brings her to life in one of the most outrageous dream sequences in cinema history, we begin to realise just how bizarre Mathurin's bloodline truly is.
Receiving its Blu-ray world premiere, this new high-definition restoration by Argos Films is supported by the original short-film version of The Beast, and Venus on the Half-Shell (1975), Borowczyk's portrait of the painter Bona Tibertelli de Pisis and her erotic fusions of men, women and molluscs.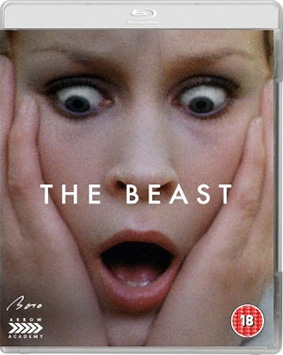 The Beast will be released on UK Blu-rayon 28th July 2014 by Arrow films at a yet to be confirmed RRP.
Featuring a new high definition digital transfers of the feature and the shorts, uncompressed Mono 2.0 PCM audio and optional English subtitles, the disc will have the following extras:
Introduction by film critic Peter Bradshaw

The True Story of the Beast of Gévaudan (1972) – the original short-film version of The Beast

Venus on the Half-Shell (1975)

The Making of The Beast: camera operator Noël Véry provides a commentary on footage shot during the film's production

Frenzy of Ecstasy – a new visual essay on the evolution of Borowczyk's beast and the sequel that never was, Motherhood

Theatrical trailer

Reversible sleeve featuring original poster design

Booklet featuring new writing on the film by Daniel Bird and archive pieces by David Thompson and Craig Lapper, illustrated with original stills