Edinburgh – 28 May 2014. Artistic Director Chris Fujiwara announced this morning at Filmhouse in Edinburgh details of the programme for the 68th edition of Edinburgh International Film Festival (EIFF). This year the Festival, which runs from 18 to 29 June, will showcase 156 features from 47 countries, including 11 World Premieres, 8 International Premieres, 7 European Premieres and 95 UK Premieres.
The Festival boasts 124 new features, with highlights including Anton Corbijn's A Most Wanted Man, starring the late Philip Seymour Hoffman in one of his final performances, which screens within the Directors' Showcase strand; Gia Coppola's Palo Alto, starring James Franco and Emma Roberts, which will screen in the American Dreams strand; and, straight from Cannes, Abel Ferrara's controversial title Welcome to New York, inspired by the case of former IMF Managing Director Dominique Strauss-Kahn, starring Gérard Depardieu, will receive its UK Premiere. EIFF will also host the World Premiere of Castles in the Sky from Gillies MacKinnon, the story of the Scottish engineer and developer of radar Robert Watson-Watt (Eddie Izzard). The film is one of the contenders for the Michael Powell Award, along with Set Fire to the Stars, the debut feature from Andy Goddard, a semi-biographical drama depicting the life of Dylan Thomas and starring Elijah Wood, also screening as a World Premiere. Special Screenings include Anthony Baxter's A Dangerous Game, the follow-up to the award-winning You've Been Trumped, exploring American property developer Donald Trump's incursion into Scotland; and this year's family gala will be the UK Premiere of the animated heist adventure The Nut Job, featuring the voice talents of Will Arnett, Brendan Fraser and Liam Neeson.
Chris Fujiwara, EIFF Artistic Director, said:
"A film festival must keep trying to remain challenging, provocative and responsive, and I believe the programme we're unveiling today shows our success at doing that this year. It's a diverse and artistically strong programme that will delight and surprise our audiences, both old and new, and that will reward those who share our passion for exploring cinema in all its forms."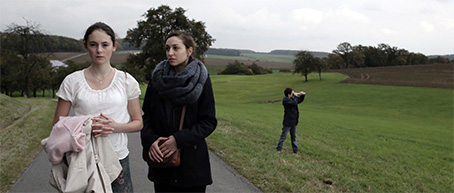 Stations of the Cross
The International Feature Film Competition highlights filmmaking from around the world that is imaginative, innovative and deserving of wider recognition. This selection includes deadpan tragicomedy The Owners from Kazakh director Adilkhan Yerzhanov; Nils Malmros' study of the extremes of human tragedy in Sorry and Joy; Alejandro Fernández Almendras' To Kill a Man, a tense and restrained study of a how far a man will go to protect his family; Ice Poison by Midi Z, portraying the economic and moral crisis affecting young people in Taiwan; and Dietrich Brüggemann's emotionally wrenching Stations of the Cross, which screens as part of the Focus on Germany. The International Premiere of relationship drama X/Y from actor-director Ryan Piers Williams, starring America Ferrera; Koji Fukada's Au revoir L'ete, a portrait of a girl of the edge of adulthood; Han Gong-Ju, the debut feature from South Korean director Lee Su-Jin; Nathan Silver's Uncertain Terms, set at a home for pregnant teenagers; Club Sandwich, a coming-of-age drama from Mexican director Fernando Eimbcke; and Concrete Clouds, the directorial debut of Lee Chatametikool, round out the International Feature Film Competition.
After a three-year hiatus, this year's Festival will see the return of the Award for Best Documentary Feature Film, supported by Al Jazeera. The nominees include Garnet's Gold from director Ed Perkins and producer Simon Chinn; 'Til Madness Do Us Part from influential Chinese filmmaker Wang Bing; Samantha Fuller's gripping tribute to maverick American filmmaker Samuel Fuller in A Fuller Life; Davi Pretto's Castanha, an endearing portrait of a 52 year old cross dresser; and the World Premiere of Life May Be, a bold and heartfelt meditation on art and identity from Mark Cousins and Mania Akbari. Completing the line-up are Farida Pacha's My Name is Salt; Chantier A, an imaginative account on the reshaping of Algeria, directed by Tarek Sami, Karim Loualiche and Lucie Dèche; Stephanie Spray and Pacho Velez's Manakamana, which stages a meeting of technology and spiritual belief aboard a Nepalese cable car; Thomas Heise's look at the everyday lives of inmates and guards at a juvenile prison in Mexico in Staedtebewohner; and My Red Shoes by Sara Rastegar, a family portrait set against the backdrop of the Iranian Revolution.
EIFF's Audience Award, a popular award with the public and filmmakers alike, will return this year. Last year the award went to Fire in the Night, directed by Anthony Wonke, a deeply moving documentary detailing the 1988 Piper Alpha disaster in the North Sea. This year the nominees include Jim Mickle's revenge thriller Cold in July with Michael C. Hall and Don Johnson; John Maloof and Charlie Siskel's gripping investigation of the life of a brilliant photographer, Finding Vivian Maier; and Jeff Baena's zombie romantic comedy Life After Beth, featuring star turns from Aubrey Plaza, Dane DeHaan and John C. Reilly.
Several Special Screenings take place across the Festival including, the World Premiere of Tony Benn: Will & Testament, directed by Skip Kite, a vivid portrait of the long-time Labour MP who died in March of this year, and a retrospective screening of docudrama Culloden from the legendary Peter Watkins which portrays the 1746 Battle of Culloden in the Scottish Highlands. And as previously announced, EIFF has teamed up with Empire magazine to host The Greatest Movie of All Time as voted for by Empire readers for their 301st issue. The winning film has been revealed as Star Wars Episode V: The Empire Strikes Back (what, seriously?) and will have an extremely rare theatrical screening at the Festival on Wednesday 25 June.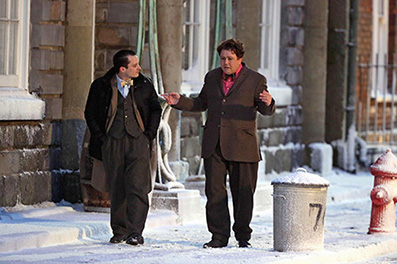 Set Fire to the Stars
EIFF and Empire will also present a series of Hero Hangouts, which will see a variety of legendary names from the world of film interviewed live on stage at the Festival, including Cold in July star Don Johnson; Elijah Wood, in Edinburgh for his starring role in Set Fire to the Stars; Noel Clarke, who produced We Are Monster and produced, directed and starred in The Anomaly; and Simon Helberg and Jocelyn Towne, the co-directors of the Closing Gala We'll Never Have Paris. Empire will host their famous podcast at EIFF and further Hero Hangout subjects will be announced over the coming weeks.
This year the American Dreams strand has been expanded to highlight the resurgence of American Independent cinema and includes the European Premiere of Craig Johnson's The Skeleton Twins, starring Bill Hader and Kristen Wiig and a powerhouse performance from Nicolas Cage in Joe, directed by David Gordon Green. International Premieres include insightful family drama Hellion, directed by Kat Candler and featuring Aaron Paul and Juliette Lewis, and Leah Meyerhoff's poetic road movie I Believe in Unicorns.
Directors' Showcase presents work from established auteur directors and emerging talents. The selection includes the long-awaited UK Premiere of Bong Joon-ho's futuristic thriller Snowpiercer starring Chris Evans, John Hurt, and EIFF Patron Tilda Swinton and the inspired, hand-drawn animation Is the Man Who is Tall Happy? from Michel Gondry. Also in the Directors' Showcase are Cathedrals of Culture, an expansive 3D project exploring the soul of buildings from six acclaimed filmmakers including Wim Wenders and Robert Redford; and Taiwanese master Tsai Ming-liang's Stray Dogs, allegedly his farewell to cinema.
Wicked and Wild will feature the World Premiere of Noel Clarke's futuristic thriller The Anomaly starring Ian Somerhalder and Brian Cox; Eli Roth's startling and depraved take on cannibalism in The Green Inferno; the explosive, nerve-shredding thriller Let Us Prey from Brian O'Malley; and Leigh Janiak's terrifying and intimate horror Honeymoon, starring Rose Leslie and Harry Treadaway as newlyweds.
For the Family brings together films and shorts from around the world which both children and adults can enjoy, including the International Premiere of Island of Lemurs: Madagascar, the spectacular IMAX film narrated by Morgan Freeman; the spellbinding tale of one cat's adventure to save the day in The House of Magic; and the fun-filled family adventure Zip & Zap and the Marble Gang, based on a beloved Spanish comic book.
As previously announced, in addition to presenting the 25th McLaren Award for Best British Animation (again supported in its anniversary year by the British Council), EIFF will be hosting the World Premiere of four digitally restored animation stereoscopic films and a number of other screenings, events and panels in tribute to Scottish filmmaker and award-winning animator Norman McLaren, as part of the ongoing UK-wide celebrations marking the centenary of his birth, in partnership with the National Film Board of Canada.
The New Perspectives strand offers a range of exciting new work from emerging filmmakers across the globe, including Terry McMahon's gritty and unsettling drama Patrick's Day; Noh Young-seok's suspenseful thriller Intruders; and Hisham Zaman's Letter to the King, a memorable ensemble piece about five people who take a day trip from a refugee camp to Oslo. The World Premiere of London gangster drama The Guvnors directed by Gabe Turner features a notable performance from Harley Alexander-Sule, one half of the hip-hop duo Rizzle Kicks; and Geethu Mohandas' Liar's Dice explores an uneasy alliance between a vulnerable young mother and an ex-soldier.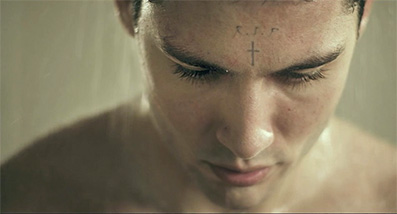 We Are Monster
As previously announced, the British films in competition for the Michael Powell Award include 6 World Premieres and 3 UK Premieres. Among the contenders are We Are Monster by Antony Petrou, which explores the tragic real-life case of an Asian teenager brutally murdered at a UK young offenders institution by a racist fellow inmate; Guy Pitt's feature debut, Greyhawk, following a withdrawn, blind ex-soldier who loses his beloved guide dog on an infamous housing estate; Uberto Pasolini's Still Life, starring Eddie Marsan in a poignant tale of life, love and the afterlife; Gillies MacKinnon's Castles in the Sky, starring Eddie Izzard; and A Practical Guide to a Spectacular Suicide, directed by Graham Hughes, a sharply scripted and poignant comedy telling the story of a young man who wants to kill himself. Completing the line-up is Hide and Seek, directed by Joanna Coates, a study of a modern attempt at living a utopian ideal; My Accomplice, a romantic comedy set in Brighton, the debut feature of director Charlie Weaver Rolfe; Andy Goddard's Set Fire to the Stars, starring Elijah Wood; and Hyena, the Festival's Opening Gala, directed by Gerard Johnson. As announced in December, the prize money for the Michael Powell Award will be increased to £20,000 this year, one of the largest cash prizes awarded at a UK film festival.
No Limits presents films that challenge convention and stimulate the mind including Jan Soldat's The Incomplete, a documentary portrait of a self-described gay slave; Peter Snowdon's The Uprising, which explores the 2011 Arab Spring by skilfully weaving together YouTube footage of the uprisings; a surreal and visceral journey into human desire in Perfect Garden by Mara Mattuschka and Chris Haring; and Atlas from filmmaker/photographer Antoine d'Agata, who presents a series of striking nocturnal images of prostitutes and recorded monologues in which they speak of their lives.
In the retrospective Border Warfare: John McGrath's Work in Television, Theatre and Film, EIFF celebrates the artistry and commitment of the radical writer-director-producer John McGrath, one of the UK's most fascinating and immensely prolific creators, who worked across different mediums to deliver powerful political productions. The season of films and TV productions will allow audiences to revisit McGrath's seminal work and includes three theatrical films written by McGrath: Ken Russell's sprawling spy thriller Billion Dollar Brain with Michael Caine; and two films directed by Jack Gold and starring Nicol Williamson, The Bofors Gun, a darkly comic look inside a British army barracks in West Germany, which McGrath adapted from his own play, and The Reckoning, in which a ruthless sales executive avenges the death of his father. Also screening will be a selection of TV dramas written or directed by McGrath and several filmed adaptations of McGrath's most famous theatre productions, including some that were staged by 7:84, the groundbreaking theatre company McGrath founded in 1971.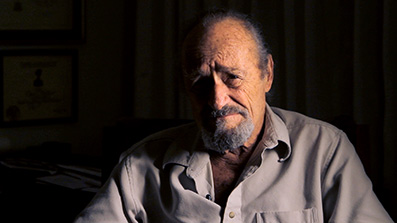 That Guy Dick Miller
Films on Film, exploring filmmaking and the lives of those who have made film history, includes the European Premiere of Doc of the Dead, exploring the history of the zombie in popular culture with contributions from Simon Pegg, Bruce Campbell and George A. Romero. Cult icon Dick Miller is celebrated by the likes of Roger Corman and Joe Dante in That Guy Dick Miller, and the experimental satire La Última Película, by Raya Martin and Mark Peranson, pays tribute to the vanishing medium of film.
This year EIFF's Short Film programme is supported by Virgin Atlantic and will screen 172 new and 14 retrospective short films from 40 countries. In addition to the animated shorts which will screen as part of the McLaren centenary the Festival continues to showcase evocative and inspiring shorts from UK and International filmmakers including a special programme as part of the Focus on Germany strand, Bridging the Gap, which explores the breadth of Scottish life, and the Black Box strand, which celebrates experimental and artistic shorts from around the world.
This year's two country Focuses showcase work from Germany and Iran. The Focus on Germany, which aims to shine a light on Germany's most inventive filmmakers with screenings of new and retrospective films, will include several UK premieres including Home From Home, the latest in the legendary 'Heimat' series by Edgar Reitz; and the historical romantic drama Beloved Sisters by Dominik Graf. The latter director is also the subject of a special retrospective celebration, 'Secret Master: Dominik Graf and the Hidden History Of German Cinema', which highlights Graf's brilliant work in the crime thriller genre. 'Interrupted Revolution: Iranian Cinema, 1962 to 1978' will look back to some of the dazzling masterpieces from a breakthrough period in Iranian cinema, while the Focus on Iran strand will celebrate the passion and range of today's Iranian filmmakers.
This year EIFF launches its Teen Spirit strand and Youth Hub as part of its ongoing commitment to engaging young audiences and encouraging new filmmaking talent. The initiative this year has seen a group of EIFF Young Programmers, aged 15-19, select films under the mentorship of the Festival. Screenings in the Teen Spirit strand cost only £5 each no matter what your age, and include GALORE, a powerful drama about sex, friendship and tragedy; Ballet Boys, a warm-hearted, inspiring film which introduces us to three best friends passionate about ballet; Finsterworld, a darkly comic, deftly intelligent and original take on modern German guilt; and a selection of short films. The Youth Hub is a new, free EIFF programme of events for young people, which runs throughout the Festival from 19 to 28 June at Space Club in Argyle House.
As previously announced, the 68th Edinburgh International Film Festival opens with the World Premiere of Gerard Johnson's HYENA, starring Peter Ferdinando, Stephen Graham and MyAnna Buring and the Closing Gala is the International Premiere of We'll Never Have Paris, co-directed by Simon Helberg (The Big Bang Theory) and actor/director Jocelyn Towne (I Am I). Helberg also plays the lead stars alongside Zachary Quinto and Alfred Molina.

The Edinburgh International Film Festival 18 - 29 June 2014
EIFF Box Office opens on 2 June to the public, 29 May to Filmhouse Members