Just to be clear, I Declare War is the title of the film, we're not declaring war on DVD and digital download just yet.
I Declare War focuses on a group of 12-year-old friends whilst they play an innocent game of 'Capture the Flag' in the neighbourhood woods, arming themselves with nothing more than sticks, their imagination and a simple set of rules. One afternoon the game takes on a more serious tone and the quest for victory pushes the boundaries of friendship, giving the would-be warriors a glimpse of the darker side of human nature. Will child's play turn to something more real or will these boys battle it out and win the war?
Directed by Jason Laypeyre and Robert Wilson, I Declare War features rising stars Gage Munroe (Immortals), Simon Yu (A Beginner's Guide to Endings) and Mackenzie Munro (The Stone Angel). The film was recently screened at the Toronto International Film Festival and at the Seattle International Film Festival and has been compared to the favourites Lord of the Flies, The Lost Boys, The Goonies and Stand By Me.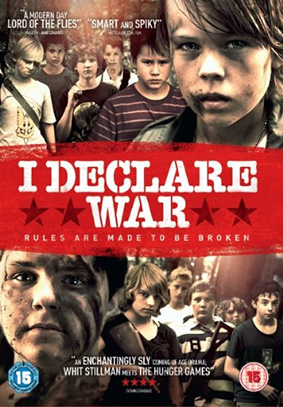 I Declare War will be released on UK DVD and digital download on 30th June 2014 by Kaleidoscope Home Entertainment at the RRP of £15.99 for the DVD.
The disc version will have the following extra features:
Director's commentary

Cast commentaries (the press release has this as a plural, but we've yet to confirm that)

Building a Battle featurette

Actor and Soldiers featurette

Trailer